To receive further information about Safety & Health Expo, taking place from 16-18 May 2023, click here to register your interest and you'll be one of the first to know when registration for Safety & Health Expo 2023 opens. 
The health and safety community was brought back together with a bang for the first time in three years in May 2022, below are some of the highlights from the event.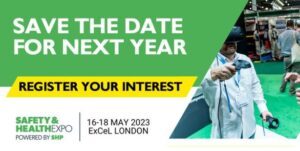 Want to keep up to date with health and safety strategies and regulations, extend your network and assess the latest solutions, all under one roof?
Safety & Health Expo is where tens of thousands of health and safety professionals come together to innovate, collaborate, and fulfil their goals.
This is your unmissable chance to learn about innovative approaches, legislation and best practice that will equip your business to overcome the many new challenges facing the market.
Highlights from 2022 included Mandy Hickson, a fighter pilot with more than 30 years' experience, including three tours of duty and 45 missions over Iraq, urging health and safety professionals to learn the lessons from the aviation sector.
Also, the BAFTA-winning presenter of Louis Theroux's Weird Weekends, When Louis Met…, and LA Stories, Louis Theroux took to the stage to discuss communicating effectively, working in hostile and volatile environments, and health and wellbeing.