In this episode of the Safety & Health Podcast, we're able to bring you the full recording of Louis Theroux's keynote session at Safety & Health Expo. Louis sat down in front of a packed Keynote Theatre audience to discuss all things, from communicating effectively and working in hostile to health and health and wellbeing.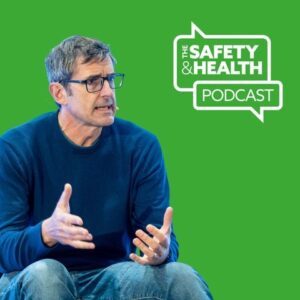 Louis Theroux is a journalist, documentary-presenter, producer and writer. His unique style of investigation has looked into everything from celebrities to the US prison system, far-right groups to adult films. His simple yet direct style has revealed the personalities, lifestyles, loyalties and beliefs of those often misunderstood, written off or ignored.
In this interview, recorded at Safety & Health Expo on Thursday 19 May 2022, Louis sat down with SHP Editor Ian Hart.
Starting out in print journalism, Louis moved to television as a correspondent on TV Nation, examining the strange, dangerous and controversial elements of American life. Before joining the BBC to develop his Weird Weekends series, which often put him in dangerous and compromising positions.
Returning to the UK, Louis followed Weird Weekends with When Louis Met… in which he spent time with a range of unusual celebrities from Ann Widdicombe and Chris Eubank to Neil and Christine Hamilton.
In 2019 Louse set up Mindhouse an independent television production company, which aims to tackle thought-provoking and complex subjects using intelligence and humour.