In episode 9 of the Safety & Health Podcast, we hear from Peter Kelly, Senior Psychologist for the Health and Safety Executive about work-related stress and Inspector Phil Spencer, Blue Light Programme Co-ordinator at Cleveland Police, discusses the stress of working on the frontline during the pandemic.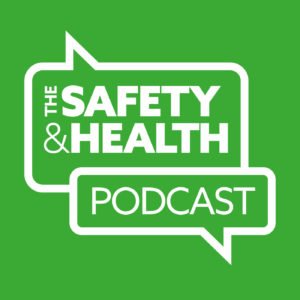 Peter Kelly is Senior Psychologist for the Health and Safety Executive, primarily responsible with providing the HSE and the government with advice on work-related stress, mental health and wellbeing.
Peter defined stress as, 'a perceived inability to achieve a desired goal'. He said: "You can go through your day, you are on target, you feel like you're in control, and then you get these additional elements that come in. Now, if you get those periodically, that's fine, because actually, that's part of work. The issue is when you get sustained levels of extra activity that you can't control and deal with.
"Stress has probably been around for hundreds of years, the difference we have now is that the demands are very different, which is why we've seen the most days lost to work-related stress, and mental health, at any time, at 17.8m."
---
Click here to listen to the episode in full…
---
When discussing the impact of COVID-19, Peter believes that there are 'three parallel pandemics going on'. "I think one is a global recession, which is a pandemic it's in its own right with loss of jobs, which we know impacts people's mental health. We have an influenza pandemic, with people going through COVID-19 and then we have a tidal wave of mental health issues happening, where people are experiencing significant levels of mental distress."
"We may be coming out of the COVID-19 experience, we may be looking at the embers of growth in recession, but we are certainly at the very starting point of what is likely to be a generational impact of this pandemic on people's mental health.
"Why I think mental health is important now more than ever, is because we know the way you work, and how you work at work, will fundamentally change. What we've done at HSE is to adapt our information that we're getting out to people. Our Talking Toolkits help the acknowledgement that people need to have those conversations about mental health and stress."
A recent report in The Guardian, suggested that the lifting of lockdown restrictions and the subsequent return to schools, workplaces and social events could trigger heightened levels of stress and anxiety for many people.
We may be coming out of the COVID-19 experience, we may be looking at the embers of growth in recession, but we are certainly at the very starting point of what is likely to be a generational impact of this pandemic on people's mental health.
ISO45003
Peter has been working closely with the BSI on the new ISO45003 Standard, a voluntary standard which sets out what you need to have in place as an organisation to improve psychological health, safety and wellbeing.
Set to be released in June, Peter said: "Enshrined within ISO45003, is the factors in the management standards, and from the Canadian standards, about creating workplaces that actually promote health, rather than create ill health. That means tackling work related stress at source, not simply saying 'I want you to be resilient and mindful and do not think about the sources of stress'."
"What ISO45003 does is latches on to an already pre-existing position that the UK has had, which is we expect you to do this. Now, traditionally we've taken a very passive role in encouraging people to do it and be the be doing this because it's the right thing to do."
Trailblazer
In part two, we hear from Inspector Phil Spencer, Cleveland Police's Blue Light Programme Coordinator & Wellbeing Inspector. Phil joined the police aged 30, having previously worked as a lifeguard and a gym instructor. In recent years, he has been a key component in driving forward the workplace wellbeing agenda and changing the way mental health is thought about in policing. He has transformed how Cleveland Police supports its staff in better understanding mental health, and how to cope with the trauma and difficulties of the working environment, especially during the pandemic. His work over the last 12 months saw him voted the winner of SHP's Trailblazer in Workplace Wellbeing Award. He told SHP: "We don't do these things for recognition or awards, we do it for the right reasons. I always say, for wellbeing initiatives like this, you need the right people doing it for the right reasons."
The Blue Light Programme was initiated by Mind in 2014, after recognition from the Government recognised that something needed to be done to help the emergency services with the work they do and the kind of trauma they are regularly faced with. Phil got involved in the programme in 2016: "It was just something that interested me," he said.
"I was given an attachment for three months to set it all up, and that ended up lasting nearly two years. Then I went back on frontline and it just kept snowballing." Phil said that the programme has seen his career develop in a way that he would not have imagined, including running training and becoming a qualified Mental Health First Aider."
Safety & Health Podcast
Subscribe and tune in the Safety & Health Podcast to discover the latest issues facing the health and safety profession, and stay on-top of the developments affecting your role, from working at height, lone working and common workplace hazards, to safety culture, behaviours, occupational health and mental health and wellbeing.
Last time out, we heard from Gill Kernick about the pressing need to improve building safety culture post-Grenfell.