In episode 11 of the Safety & Health Podcast, we focus on the SHP Awards and hear from four winners, SHP's Rising Star UK and Rising Stars in construction and manufacturing and SHP's Trailblazer in Positive Social Impact. Hear some interesting and innovative safety ideas from the construction and manufacturing sectors and learn how the perceived negative of struggles with mental ill-heath, can be turned into a positive.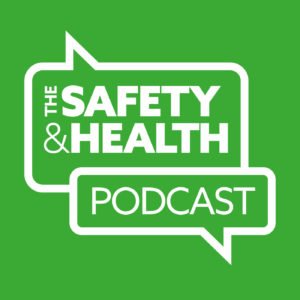 Hear from Thomas Dunning, a Mechanical engineer at British Sugar, who is perhaps better known as the Mental Health Runner, an award-winning TED speaker, who shares his mental health journey explicitly to show the world that it really is "okay to not be okay". Thomas was recently named SHP's Trailblazer in Positive Social Impact, with judges highlighting that how Thomas has turned the negative of his own mental ill health struggles into a positive and opened the subject up to a much wider audience.
---
Scroll to the bottom of the page to listen to the episode in full.
---
Then, we speak to Lucilla Cummings, HSE Improvement Specialist at Travis Perkins, who was named the winner of the SHP Award for Rising Star UK, an award which recognises young health & safety professionals, across all sectors, going above and beyond to improve occupational health, safety and/or workplace wellbeing in the UK. Judges noted how Lucilla has made "rapid progression" through the business.
Next up, it's PepsiCo EHS Specialist, Sam Watts, who was been named as SHP's Rising Star in Manufacturing. Sam 'fell' into safety six years ago after starting a EHS temporary admin role whilst waiting to join the police force, but quickly realised her passion for all things health and safety. It was Sam's response to COVID-19 that really stood out to the judging panel, as she helped implement additional controls to ensure the safety of not only staff, but also their families.
Last, but not least, Finally, it's the turn of BAM Construction Training Managing Director, Matthew Durant, who was named SHP's Rising Star in Construction. Matthew started BAM Construction Training in 2013, with the intention to make engaging and interactive courses which put learners first. His dedication to partnering with other construction companies to provide young people with work and educational opportunities within the industry was noted by the judges, who noted that he had a "clear emphasis on trying to help the wider industry".
Read the full, written interview with Matthew Durant, here.
Safety & Health Podcast
Subscribe and tune in the Safety & Health Podcast to discover the latest issues facing the health and safety profession, and stay on-top of the developments affecting your role, from working at height, lone working and common workplace hazards, to safety culture, behaviours, occupational health and mental health and wellbeing.
Last time out, we focused on the latest health & safety legislation updates, particularly around returning to work and the coronavirus vaccination programme. We also heard from SHP's Most Influential Person in health & safety, Hilda Palmer, and we dropped in some clips from a recent roundtable, hosted by SHP, about the role of smart PPE in protecting lone workers.