In episode 10 of the Safety & Health Podcast, we focus on the latest health & safety legislation updates, particularly around returning to work and the coronavirus vaccination programme. We'll also hear from SHP's Most Influential Person in health & safety, Hilda Palmer, and we'll drop in some clips from a recent roundtable, hosted by SHP, about the role of smart PPE in protecting lone workers.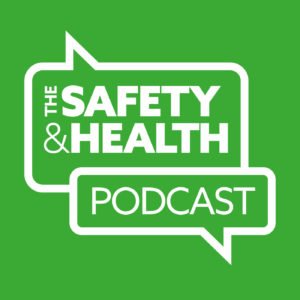 Lawyer Simon Joyston-Bechal, Director at Turnstone Law, discusses returning to work in times of COVID-19. Simon shares how far you can push the boundaries to get people back into the office lawfully, whether lateral flow tests will help, details around vaccines and how far you have to go in terms of social distancing.
Listen, on-demand, in full to the Barbour EHS Legislation updated webinar, here.
Then we talk to Hilda Palmer, who was named SHP's Most Influential Individual in health & safety in December. Hilda has over 30 years' experience in health & safety and works for Greater Manchester Hazard Centre. In December SHP readers recognised her work as a campaigner, supporting families who find themselves on the wrong side of health and safety failure. Hilda shares her views on the health & safety system in the UK, the importance of protecting workers as they return to the office and talks about her work with Families Against Corporate Killers (FACK).
Click here to read Hilda's interview.
---
Scroll to the bottom of the page to listen to the episode in full
---
Finally, we take a look at the role of smart PPE in protecting lone workers with some clips from a recent roundtable, hosted by SHP. Lone and at-risk workers represent a large proportion of the UK's workforce – a trend that has been exacerbated during the COVID-19 pandemic as social distancing measures have been introduced, shift patterns have changed and an increased number of people work in isolation. The clips look at how businesses have had to adapt through lockdown restrictions, the challenges organisations have when it comes to keeping staff safe beyond their shift, the importance of embedding smart PPE into the culture of an organisation and the role of technology in health & Safety in the future.
With thanks to our episode sponsor, Peoplesafe.
Safety & Health Podcast
Subscribe and tune in the Safety & Health Podcast to discover the latest issues facing the health and safety profession, and stay on-top of the developments affecting your role, from working at height, lone working and common workplace hazards, to safety culture, behaviours, occupational health and mental health and wellbeing.
Last time out, we heard from Peter Kelly, Senior Psychologist for the Health and Safety Executive about work-related stress and Inspector Phil Spencer, Blue Light Programme Co-ordinator at Cleveland Police, discusses the stress of working on the frontline during the pandemic.