The SHP Awards celebrate the achievements of the brightest and most passionate health & safety professionals. From young, upcoming rising stars and leaders of tomorrow, to our most seasoned, influential ambassadors, and trailblazers making a positive impact in safety, health and wellbeing.
The awards take place annually and will be open for nominations again in late 2021. They have always been free to enter, with nominations reviewed by an independent panel of judges. Winners are announced online and receive various prizes, including coaching and development opportunities.
In 2020 the awards were brought to you in collaboration with the HSE and IATP, and there were three categories: Rising Stars; Most Influential; and Trailblazers. Each category had more than one award, and each category had its own programme of activity.
SHP Rising Star Awards
Launched by SHP in 2015, Rising Stars commends young health & safety professionals showing drive and determination in the early stages of their careers. The awards have always been open to anyone under the age of 30. Over the years SHP has proudly followed the continued success of the Rising Stars winners & finalists, featuring many of them in ongoing articles and interviews.
Learn more about the SHP Rising Star Awards here, including the list of all previous winners.
SHP Most Influential Awards
Launched by SHP in 2017, Most Influential celebrates those who have had the biggest impact on health & safety, not just within their own organisation but within the wider profession or society. Applications are open to all, and while a judging panel is involved in shortlisting, the final say is determined by public vote. As well as the individual award, 2020 saw the addition of the new award for teams.
Learn more about the SHP Most Influential Awards here, including winners of the Most Influential Individual and Most Influential Team.
SHP Trailblazer Awards
Launched by SHP in 2020, the Trailblazers are health & safety professionals who are going above and beyond to make a positive difference – in some cases within their own organisation, in other cases more widely in the community. Applications are open to everyone working in the UK, of all age groups and levels of seniority. In 2020 there were awards recongising Trailblazers in: Wellbeing; Positive Social Impact; Technology; and COVID-19 response.
Learn more about the SHP Trailblazer Awards here, including 2020's winners.
Meet the SHP Awards Judges
The judges for 2020 were made up of a mix of people from across multiple sectors and include previous SHP Award winners: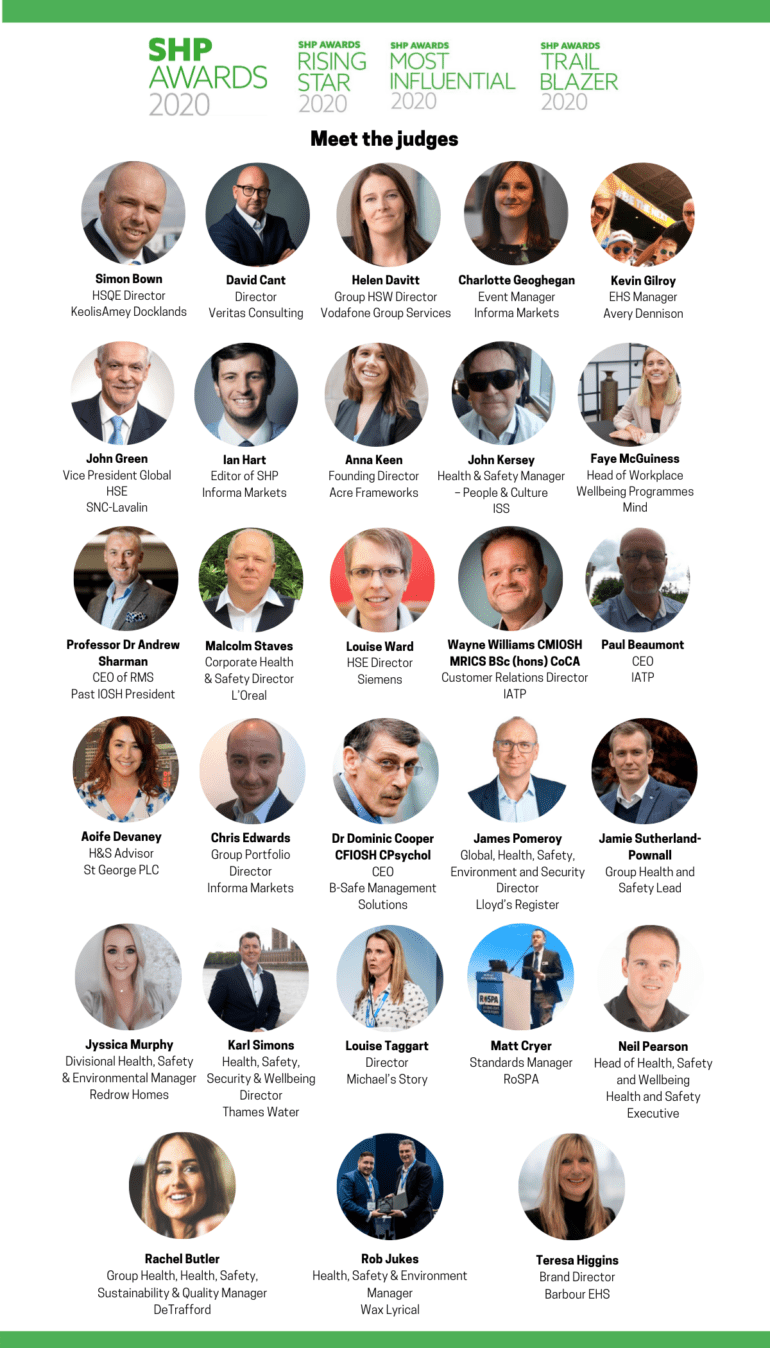 Paul Beaumont, CEO, IATP.
Simon Bown, HSQE Director, KeolisAmey Docklands;
Rachel Butler, Group Health, Safety, Sustainability & Quality Manager, DeTrafford. 2019 SHP Rising Star finalist;
David Cant, CMIOSH, Director of Veritas Consulting;
Dr Dominic Cooper, CEO, B-Safe Management Solutions;
Matt Cryer, Standards Manager, RoSPA;
Helen Davitt, Group Health, Safety and Wellbeing Director, Vodafone;
Aoife Devaney, H&S Advisor, St George PLC. 2019 Rising Star finalist;
Chris Edwards, Group Director, Informa Markets;
Charlotte Geoghegan, Event Manager, Safety & Health Expo and Workplace Wellbeing Show;
Kevin Gilroy, EHS Manager, Avery Dennison;
John Green, Vice President Global HSE, SNC-Lavalin. 2017 SHP Most Influential winner;
Ian Hart, Editor, SHP;
Teresa Higgins, Brand Director, Barbour EHS;
Robert Jukes, Health, Safety & Environment Manager, Wax Lyrical. 2019 SHP Rising Star UK winner and 2019 SHP Rising Star Manufacturing winner;
Anna Keen, Founding Director, Acre Frameworks;
John Kersey, Health & Safety Manager – People & Culture, ISS;
Faye McGuiness, Head of Workplace Wellbeing Programmes, Mind;
Jyssica Murphy, Divisional Health, Safety & Environmental Manager for Redrow Homes. 2018 Rising Star UK winner;
Neil Pearson, Head of Health, Safety and Wellbeing, HSE;
James Pomeroy, Global, Health, Safety, Environment and Security Director, Lloyd's Register;
Professor Dr Andrew Sharman, Managing Partner, RMS and IOSH President;
Karl Simons, Health, Safety & Security & Wellbeing Director, Thames Water. 2019 SHP Most Influential winner;
Malcolm Staves, Corporate Health & Safety Director, L'Oreal;
Jamie Sutherland-Pownall, Group Health and Safety Lead. 2017 SHP Rising Star UK winner;
Louise Taggart, Workplace Safety Speaker, Michael's Story.2018 SHP Most Influential winner;
Louise Ward, Health, Safety & Environment Director, Siemens;
Wayne Williams CMIOSH MRICS BSc (hons) CoCA, Customer Relations Director, IATP.
Collaboration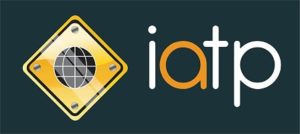 Along with the HSE, IATP collaborated with SHP on these awards for 2020. Established in 2010, the IATP are recognised by the HSE, trade bodies, trade unions and industry for continual commitment and development for providing asbestos safety training and promotion of asbestos awareness across the UK.
IATP members are independently and regularly audited and their training materials verified to ensure that their training fully complies with the requirements of regulations.
Members provide asbestos training covering the whole of the UK and beyond. They work closely with industry to ensure best practice and compliance in asbestos knowledge and safe working practices and encourage the development of the safety training industry.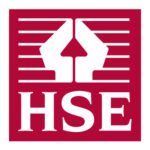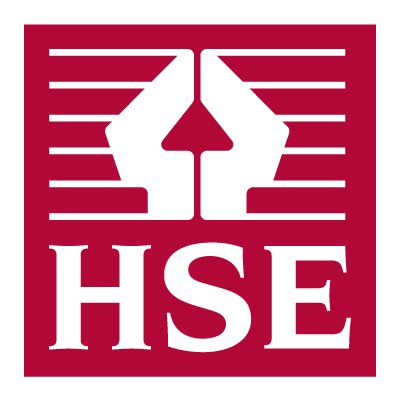 Commenting on the awards, IATP CEO Paul Beaumont said: "The IATP are excited to be sponsoring and supporting the SHP Awards 2020. The efforts of the SHP and organisations similar in role to the IATP is to help encourage, inform and promote best practice, development and commitment to the ongoing safety of those in the workplace and beyond.
"We recognise and respect all of those whose hard work and dedication have brought them to be nominated for an award, but strongly believe that the SHP Awards will help encourage people and organisation to strive toward stronger compliance and to recognise a clear commitment to health and safety in the current times and beyond."
Photos of awards winners
More photos can be found on each of the awards category pages.