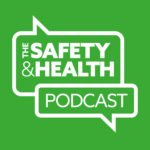 Kevin Bird is an experienced driver at Air Products, an industrial gas supplier that operates a global fleet of vehicles. However, on being diagnosed with obstructive sleep apnoea he faced the possibility of losing his licence. Here, alongside his Manager, John Davies, he shares his story from that initial diagnosis to the support he received from his employers when revealing his condition.
---
Further listening: BONUS PODCAST EPISODE: Introducing the 2022 SHP Editorial Board
---
Obstructive sleep apnoea is a recognised condition when your breathing stops and starts while you sleep. It results in feeling very tired during the day, issues concentrating, mood swings and headaches. It can be very serious if left untreated. It's estimated that better diagnosis and treatment could prevent up to 40,000 road accidents a year.
Air Products is a leading, global industrial gas company with a large fleet of vehicles. One of its experienced drivers Kevin Bird was diagnosed with the condition and in this episode of the Safety and Health Podcast, he tells SHP Editor, Mark Glover, about his symptoms, the shock of being diagnosed with the condition and how it felt to potentially lose his licence and ultimately his livelihood. However, after eventually coming forward and speaking to the firm's Central Distribution Manager, John Davies, John and his team were able to implement a support plan to keep Kevin on the road.