Manual Handling in the Workplace: Employee Factsheet
Manual handling is one of the biggest causes of accidents at work.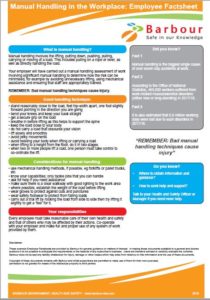 According to the Office of National Statistics, 469,000 workers suffered from work-related musculoskeletal disorders (either new or long-standing) in 2017/18.
It is also estimated that 6.6 million working days were lost due to such disorders in 2017/18.
This employee factsheet includes:
What is manual handling?
Good handling techniques.
Considerations for manual handling.
Employee responsibilities.
Fill out the form to download Barbour's free employee factsheet and find out more.
Sponsored by: