In this Access Group webinar, GRC specialist Chris Chappell discusses the unique and unprecedented health and safety challenges faced by organisations across the nation in the current climate – and how to overcome them.
The landscape of health and safety in the working world has changed significantly over the past several months, with an increase in remote working and a need for diligence as employees transition back to their usual workplace. On top of these new challenges, the traditional need for protecting the business and its people against health and safety risks has certainly not disappeared.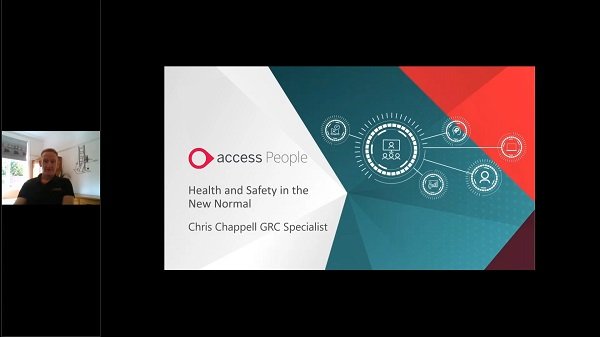 Chris Chappell, GRC expert, explores the key areas of health and safety in the workplace today, sharing his knowledge and experience around returning to work after COVID-19, making the workplace COVID-secure, ensuring business resilience, and dealing with pre-COVID health and safety challenges in the workplace.
What's covered in the webinar:
Why health and safety at work has been elevated to a tier one consideration;
The key questions employers should be prepared to answer;
The guiding principles to create a Covid-secure workplace environment;
How organisations can prioritise health and safety for their remote workers in the long-term.
Discover more about how Access' scalable health and safety solutions can support your organisation as you navigate the new normal. You can also download their brand-new Achieving Agility Guide for insights on prioritising wellbeing and delivering a safe, Covid-secure working environment.
Listen on-demand, as Chris Chappell discuss what makes a good risk assessment, part of SHP's Webinar Wednesdays series.
Chris is joined by Zoe Chaplin from the HSE, Eloise Francis from L&G Capital and lawyer David Young, from Addleshaw Goddard on the panel.