SHP caught up with Dr Mavis Nye who, was voted as SHP's Most Influential Individual for 2021 by SHP readers. We chat her work as a campaigner for the dangers of asbestos exposure and the lack of awareness that still exists, and how living with Mesothelioma impacts her life.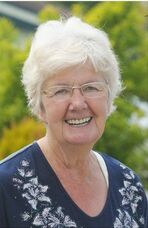 Mavis has been described as a 'tour de force, and an absolute dynamo for Asbestos Awareness'. She lives with Mesothelioma every day of her life, having been diagnosed a few years ago, and spends her life campaigning for asbestos awareness and removal.
It was shortly after returning from a holiday to Spain in 2009 that Mavis first became aware that something was wrong. She noticed that her breathing had become laboured, so went to the doctor, where she had an X-Ray. The results of which showed 'a huge mass', prompting her doctor to send her to A&E, where they drained off seven litres of fluid. "That was the first time I knew about it. Everyone who has Mesothelioma can tell you the same story," Mavis said.
This is where her diagnosis began, a journey which would see her undergo four years of chemotherapy, followed by immunotherapy, the treatment of disease by activating or suppressing the immune system. "There were three of us that went on the first trial," Mavis continued. "Sadly, the other two people died, but I sailed through, and they didn't know why. They don't know what it is that's in my DNA that has helped me through."
After weeks of tests and Biopsies, where cells were discovered in the fluid drained from her body, Mavis was given the news that she had Mesothelioma. It was explained that it was a Terminal Cancer, that there was no cure and no treatment available. The prognosis was a life expectancy of about three months. Mavis spent the following years on Chemotherapy and failed Drug trials and is now the longest living person in the UK with Mesothelioma that has had immunotherapy.
Unbeknownst to her, Mesothelioma has likely been with Mavis since the 1950s, which is when, aged 15, she met at an apprentice in the Royal Naval Dockyard in Chatham, Ray, who was to become her lifelong partner. During their meetings, Ray would have on his clothes the fine invisible dust of asbestos. No one at that time warned them that this would in later life become a major issue.
Click here to listen to this interview in full.
How does living with Mesothelioma impact your life?
Mavis Nye (MN): "It's been hard going, really. It's all appointments and going to the hospital, lots of waiting around, waiting for treatment, waiting for the results of scans. We have to be very patient.
"Of course, being locked up for three years, because of COVID, we couldn't go out. Ray has cancer too, he's got Lymphoma, so we were considered vulnerable and had to stay indoors.
"My mental health has suffered because I'm petrified of getting it [the virus]. I know that I've got a terminal illness that will probably kill me anyway, but I've fought it and lasted 13 years, so I certainly don't want this virus to catch me and knock me out."
How big of an issue is lack of awareness, when it comes to the dangers of asbestos exposure and how can we raise more awareness?
(MN): "There is a huge lack of knowledge. I cannot believe how many people, particularly DIY enthusiasts working on their own homes, don't understand the need to have a survey done before carrying out work. I run groups on Facebook. I've got an asbestos group, as well as a Mesothelioma group, and people in those groups are doing DIY, take a photo and post in the group asking, 'is this asbestos?'. I keep repeating that they have to get it tested, but you should have a survey first and you can't get that through to people that they must have surveys. Every household should have a survey, I feel.
"Education is so important. I think, television fails terribly when it comes to DIY shows. Some do show asbestos and where it is and stop the job because of it, but a lot don't. They are pulling out fireplaces, that's one place where it already is, and they're pulling down walls and doing plumbing jobs, and they never mention asbestos."
Is it right in saying that asbestos only becomes dangerous once it's disturbed?
(MN): "I'm beginning to think that isn't quite true, especially in schools. They say, 'leave it alone and it's safe', but I don't see it like that, because over it's been in there such a long time now and I feel it's crumbling and gets disturbed all the time, so why leave it there to be disturbed?
"Asbestos is in every old building, every old hospital, every old college, universities, schools. Many professional builders and contractors are aware of the hazards and treat asbestos accordingly, but many don't. You've got the 'cowboys' who do the work and then dump asbestos in the countryside, they really should be fined very heavily for that. They're not looking after themselves, they put it into their van, and go home to their family and there is so many opportunities for contamination."
Was it natural following your diagnosis that you almost fell into researching and campaigning to raise awareness, or was it a conscious decision?
(MN): "That started because I had to look for trials, so needed to do an awful lot of research, which led me into looking more closely at asbestos. It made me led me so angry with the government, at the time, because that they knew about it [the dangers] and yet they let us carry on working. They assumed we would die, and they wouldn't have to pay compensation.
"It wasn't a natural thing to go into it, but it just came upon on me. Then, I decided to start a campaigning, staring by I started by talking. I began being invited to speak at events and that's how I carried on."
From there you set up the Mavis Nye Foundation. Can you talk a little about that and the work it does…?
(MN): "A lot of the work focusses on raising money and getting in as many donations as I can. That led me to a Mesothelioma UK nurse, who we work alongside. We also got involved with a peritoneal PIPAC Trial, with Mesothelioma UK and HASAG (Asbestos Support In London & The South East), where we were able to buy the machines for the trial, which gives chemo under pressure into the tummy area.
"We're currently in talks, as the Foundation and with the board, about where to put our money this year.
"I just see myself, and the Foundation as, helping out where I can."
How did you feel when you were told that you had been shortlisted, and subsequently won, SHP's Most Influential person in health & safety for 2021. And what do you think the recognition could do for the awareness of your work?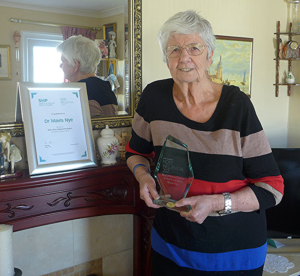 (MN): "I thought it was a joke. I couldn't believe that something like that could happen, but by golly did I feel good. I don't feel that I am that influential, but people say that I am, so I just accept it.
"People think asbestos is not in today's houses and today's society, but it is. Just because it's banned, doesn't mean it went away. It didn't and I want to keep pushing that fact and keep people safe for the future, especially the people that work with it. I keep on about keeping safe, with their masks and advising that they don't grow their beard. You have to keep nagging them about shaving, but they've got to keep safe when working with asbestos.
"I'm sometimes a bit surprised how the young guys do talk to me. I went to the Contamination Expo this year and two lovely lads came up to me and said, 'we're apprentices, and we are on training, and we follow you all the time', which that shocked me a little bit that they don't see me as a silly old woman."
Finally, how can people find out more about your campaign, contact you or donate?
(MN): "My website is, www.mavisnyefoundation.com. I'm also on Facebook and LinkedIn, so can be found on there. I'm also, @Grandmamavis on Twitter, which funnily enough when came about when I signed up to watch my grandson and I've never changed it and it just sort of stuck."
Additional resources:
HASAG: Asbestos Support In London & The South East
Dr Mavis Nye named SHP's Most Influential person in health & safety for 2021