PPE in the Workplace: Employee Factsheet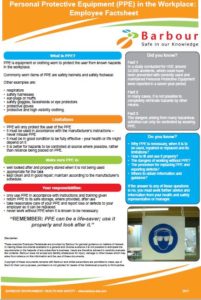 PPE is equipment or clothing worn to protect the user from known hazards in the workplace. Commonly worn items of PPE are safety helmets and safety footwear.
Did you know? In a study conducted for HSE around 24,000 accidents, which could have been prevented with correctly used and maintained Personal Protective Equipment were reported in a seven year period.
This free employee factsheet contains:
What is PPE?
PPE limitations;
What PPE should be;
Employee responsibilities.
Fill out the form to download Barbour's free employee factsheet and find out more.
Sponsored by: