Legislation Update eBook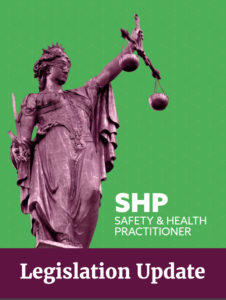 The last 12 months have seen some major publications in health and safety, not least the long awaited ISO 45001 with a promise of transforming workplace practices globally.
David Smith, Chair of the project committee that developed the standard, has described it as a 'game changer', providing a framework for a safer workplace for all, for every sector, regardless of size. As the business world gets to grip with this new standard, some companies have already achieved compliance.
And as others look to implement processes to continually improve workplace safety in line with ISO 45001, the ability to communicate risks to workers, subcontractors and visitors becomes critically important.
It has never been clearer that organisations must take necessary preventative action and ensure effective OH&S management systems are in place – further endorsement of the likes of ISO 45001.
This Legislation Update eBook from SHP covers:
Looking back – ISO 45001;
ISO 45001 explained;
What does ISO 45001 offer for organisations?
Looking forward – Brexit.
Changes to legislation and associated documents;
Environment;
Electrical and electronic equipment;
and much more….
To download this eBook, simply fill out the form opposite.