Download the Accident Investigation Guide
In partnership with Southalls
This guide is designed to help guide you through the accident investigation process from start to finish. Whether you have years of experience in accident investigation, or you have never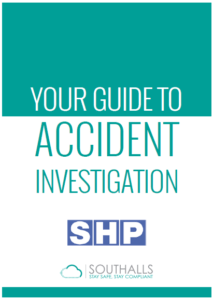 experienced the process before, this guide outlines the most fundamental parts of the investigation process, and encourages you to ask questions that you may not have previously considered.
The guide covers the following:
Why investigate accidents?
The Immediate, Underlying and Root Causes of Accidents
What to do in immediately after an accident
The HSE's defined 4 steps to accident investigation
Who should investigate?
The human error aspect
Creating and implementing an action plan
Reporting under RIDDOR
The impact of the Health and Safety Sentencing Guidelines
Download your free copy by filling out the form.