Fire safety – safety storage
Safety storage specialist Asecos has launched a fire-resistant, Type 90 under-bench cabinet, which allows secure, refrigerated storage of flammable liquids to a max of +2oC.
The company says that safety and energy efficiency are enhanced by an integrated recirculating air system with ten-fold air exchange inside the cabinet. This is said to prevent the build-up of condensation and guards against the formation of flammable gas-air mixtures inside the cabinet.
The cabinet has a height of 630mm and Asecos says it can be placed easily in most working areas. The unit also comes with a port offering the option to connect to an external alarm system.
For more information, visit www.asecos.com.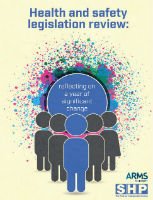 Reflecting on a year of significant change
This free eBook from SHP is an indispensable guide to reviewing health and safety legislation updates over the last year, including recent health and safety legislative changes.
Download the free ebook