Barbour download: Guide to working at height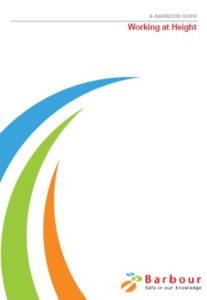 Work at any height can cause injury; a fall from a height of just one or two steps can cause serious injury. In Great Britain in 2016/17, there were 25 fatalities attributed to falls from height, with more than half of those occurring in the construction Industry. Falls from height also caused 2,670 specified (major) injuries which were reported under RIDDOR and over 2,500 injuries which led to workers being incapacitated for work for seven days or more.
Working at height is defined by the Work at Height Regulations 2005 as 'work in any place, including a place at or below ground level, or obtaining access to or egress from such a place, while at work, except by a staircase, where, if suitable measures were not taken, a person could fall a distance likely to cause personal injury'. This means that anyone undertaking any work where they could fall, is working at height and, therefore, the risks this poses must be taken into consideration and properly controlled so far as is reasonably practicable.
The Regulations were amended in 2007 to extend their application to those who work at height providing instruction or leadership to one or more people engaged in caving or climbing by way of sport, recreation, team building or similar activities in Great Britain.
This guide contains:
Duties of persons in control of work at height;
Duties of persons undertaking work at height;
General controls when working at height;
Method statement for work at height;
Selection of a means of access;
Working platforms;
Guardrails and toeboards;
Ladders;
Mobile work platforms;
Suspended access equipment;
Personal suspension equipment
and, Inspection of fall arrest equipment.
Fill out the form to download Barbour's free guide and find out more.
Sponsored by: