Beyond Compliance: Taking a 360° Approach to Fall Protection.
Today's employers are increasingly conscious of their safety responsibilities and the need to manage risks effectively. Eurostat statistics around worker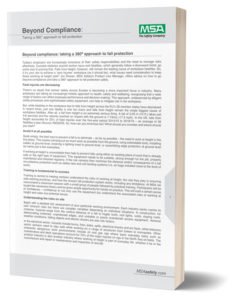 injury and fatalities, which generally follow a downward trend, go some way to proving that. Falls from height, however, still remain the leading cause of workplace fatalities. So, if it's your aim to achieve a 'zero injuries' workplace (as it should be), what issues need consideration to keep those working at height safe? Jon Rowan, MSA Safety's Product Line Manager, offers advice on how to go beyond compliance and take a 360° approach to fall protection safety.
This whitepaper looks at:
Fall protection injuries in Europe;
Eliminating risk;
Fall protection training;
Understanding fall protection risks on site;
Specifying the right fall protection equipment;
The benefits of taking a 360-degree approach.
The benefits of adopting a rigorous 360° approach to fall protection are quickly realised in a business. Employees who are properly trained to use fall protection equipment and address the potential risks of working at height are more likely to be engaged, diligent, and, ultimately, loyal to you as an employer. It can go a long way to eradicating any trace of historic complacency and ignorance and replacing with a strong, safety-first culture. So, don't let your workers become another health and safety statistic. Insist on the best fall protection systems, advice, training and support and help ensure that your workers return home safely today and every day.
To download this whitepaper and learn more, simply fill out the form opposite.
In association with…