5 rules for effective incident reporting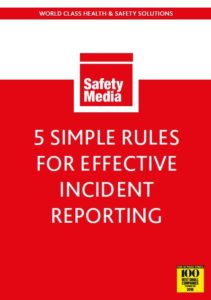 Incident reporting is essential. No matter what steps are taken, training is given and precautions are taken, there will always be an element of accidents and incidents that occur in any environment. Whether it be tripping, slipping, dropping things, scratching cars, stubbing toes, falling from a height, being hit by an opening door, TVs falling off walls…things happen.
The way in which organisations then handle such eventualities can be quite reflective of the inner workings of the organisation itself:
» Is a company still stuck in the 80s using an Incident Reporting book kept in reception gathering dust and presenting a GDPR nightmare?
» Has the company moved into the late 90s or even 00s and record things using Excel spreadsheets? (Did you know Excel is turning 33 this year?!)
» Is the company bang up to date with modern solutions allowing for efficiency and increased access and uptake of procedures?
Do you know where your company falls on the scale above…
Fill out the form to download Safety Media's free whitepaper and find out more.
Sponsored by: