British Association for Counselling and Psychotherapy (BACP) and The Health Insurance Group provide some advice on dealing with stress and mental health, for Mental Health Awareness Week.
Health and Safety managers are increasingly focusing on health and not just safety at work. Within health, we are seeing a growing awareness of the impact of mental health problems. This shift is unsurprising when you consider both the human cost of mental ill-health, 1 in 4 of us will experience a mental health issue each year, and the economic cost of between £33 billion and £42 billion annually.
Why is mental health an important consideration?
Although high-profile awareness campaigns are working towards removing the stigma, mental ill-health is still a taboo. 30% of employees say they wouldn't feel able to talk openly with a line manager if they were feeling stressed. This is borne out in last year's Government Reviewhriving at Work the Stevenson/Farmer Review of Mental Health and Employers, that revealed 8 in 10 employers report no cases of employees disclosing a mental health condition.
To tackle this issue, employers need to address the culture of silence, and offer holistic health and wellbeing programmes, that incorporate mental health support.
Addressing stress
Therapists at the BACP look at the different parts of people's lives that can lead to stress. They share their areas of expertise through typical scenarios that they come across in their counselling practices with the aim of helping us understand more about stress and how we can take steps to address it.
Counsellor Dawnie Browne explains: "Stress is an essential part of life. Historically, it was our body's way of enabling us in the face of danger, to fight, run from the scene or freeze. This biological mechanism remains within us today prompting us unconsciously to react quickly in the face of threat to ensure our survival.
"Our nervous systems have not evolved to distinguish between the presence of danger prompting us to shift gear into doing (stress) mode and the overwhelm caused by schools and work-places that ask too much, our non-stop exposure to screens, technology and leisure time that prompts us to do, do, do. We have forgotten how to relax. The outcome is chronic stress and an increasing trend towards burnout."
The workplace is one of the main arenas which can contribute to stress. Natasha Page Msc Integrative counsellor and psychotherapist, gives her advice on recognising and reducing workplace related stress:
"In my private practice as a counsellor and psychotherapist I work with a number of Employee assistance programs that offer their employees access to counselling sessions. There are often some simple things can be done to reduce the likelihood of work place stress."
Encouraging regular breaks – Whether work place culture or a bad habit. Not taking a break is a sure way to contribute to stress levels within the work place. Encourage staff to reassess what breaks they are taking and to ensure they put self-nurture at the top of their agenda.
Eating away from the desk – Getting away from the desk means employees avoid having to take a phone call, answer an email or get caught up in a conversation with colleagues.
Socialising with colleagues – Having emotional connections with others in the work place can boost a sense of wellbeing.
Managing diary effectively – Encourage staff to allow for breaks in between meetings. Writing a 'To Do List' every morning can help people feel more in control of their working day.
Work life balance – Encourage engagement in activities outside of work.
Not working beyond hours – Sending emails during the night, staying in the office well beyond hours is not healthy! In the long term this is a sure way to increase the likelihood of workplace stress.
The Health Insurance Group is encouraging employers to give staff more support with looking after their physical health – in turn having a positive impact on their mental wellbeing.
Link between physical and mental health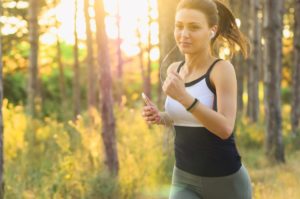 It may seem at odds with mental health awareness week to focus on physical activity, but there is a growing body of evidence to support long-held beliefs that mental and physical health are inextricably linked. Research finds that being physically active can reduce someone's risk of depression by up to 30%, stating that physical activity improves self-perception, self-esteem, mood, and sleep quality, whilst reducing stress, anxiety and fatigue.
The National Institute for Health Care Excellence (NICE) is also calling for exercise to be one of the first interventions recommended by doctors when treating mild to moderate depression, highlighting the important link between physical activity and mental wellbeing. NHS guidelines suggest that adults should aim to exercise, at a moderate intensity, for 30 minutes at least five days a week.
According to Brett Hill, Managing Director, The Health Insurance Group, there is a range of things employers can do to protect their employees, and the green shoots of good practice are emerging in UK workplaces:
Review the mental health landscape of your organisation
"In order to provide effective support, companies need to understand their current culture around mental health. This may include identifying potential high-risk areas, roles or locations or particular issues their staff are struggling with. We have found that targeted employee surveys have been a really effective tool to help companies understand the mental health landscape of their organisation. This is a great starting point which can then help dictate what support might be most appropriate."
Equip line managers
"Usually the first step in handling a mental health problem is a conversation between an employee and their line manager. It's important that employers create an environment where this is encouraged and equip their line managers to recognise potential issues or know how to respond when an employee speaks to them about mental health. Helping to break down the taboo of mental health enables management potential problems. Early intervention can also prevent mental health issues from escalating."
Make the best use of employee benefits
"There can be a number of effective solutions available within employee benefits which offer support for a broad range of issues from stress management to fitness and debt counselling. This includes employee assistance programmes (EAPs) which can include mental health support. Some have specific modules for managers that offer tailored advice and provide 24/7 helplines and access to counselling for employees. Group Risk protection benefits (employer-sponsored critical illness, income protection, life assurance) can include mental health support. So too can private medical insurance.
"It is important to consider how employee benefits are used and communicated. Even the most comprehensive package of benefits is useless if employees are unaware or don't feel confident to access it. It is a good idea for line managers to be trained to signpost employees to the most relevant type of support. For example, if an employee's mental health is being affected by money worries, a manager could direct them to debt counselling if it's available within your benefits package.
"Organisations are increasingly aware of how important it is to provide mental health support to staff and line managers in particular. It's important for organisations to understand the needs of their specific workforce, and talk to experts who can recommend solutions that are tailored for their needs. There is a range of support options within employee benefits , so companies of all sizes can find the right mixture of features to meet their specific needs. This is good news for employees, companies and the UK economy as a whole."
Hear industry leaders share their own personal stories in the brand new Occupational Health and Wellbeing Zone, with talks on mental health, reducing stress, boosting resilience, including a discussion with Santander on how to manage psychological wellbeing for positive business outcome. Seminar topics include : 'Health risk management approaches', 'Using nature-inspired design to improve office occupant health and wellbeing' and many more debates and panels…