Meet the SHP Awards Judges
The judges for 2021 were made up of a mix of people from across multiple sectors and include previous SHP Award winners: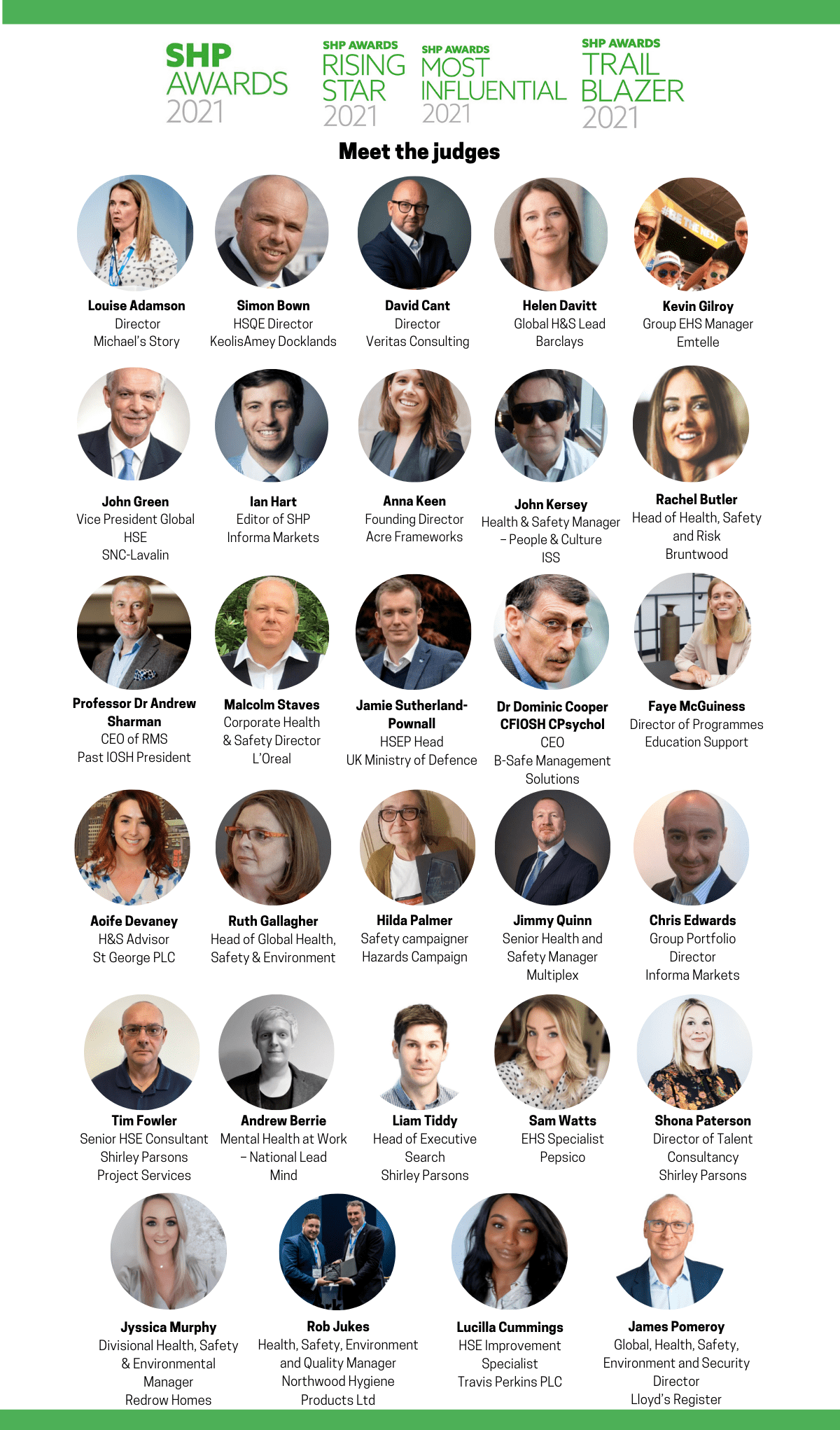 Louise Adamson, Workplace Safety Speaker, Michael's Story. 2018 SHP Most Influential winner;
Andrew Berrie, Mental Health at Work – National Lead, Mind
Simon Bown, HSQE Director, KeolisAmey Docklands;
Rachel Butler, Head of Health, Safety and Risk, Bruntwood. 2019 SHP Rising Star finalist;
David Cant, CFIOSH, Director, Veritas Consulting;
Dr Dominic Cooper, CEO, B-Safe Management Solutions;
Lucilla Cummings, HSE Improvement Specialist, Travis Perkins PLC. 2020 Rising Star UK winner;
Helen Davitt, Global H&S Lead, Barclays;
Aoife Devaney, H&S Advisor, St George PLC. 2019 Rising Star finalist;
Chris Edwards, Group Director, Informa Markets;
Tim Fowler, Senior HSE Consultant, Shirley Parsons Project Services;
Ruth Gallacher, Head of Global Health, Safety & Environment, A.P. Moller – Maersk;
Kevin Gilroy, Group EHS Manager, Emtelle;
John Green, Vice President Global HSE, SNC-Lavalin. 2017 SHP Most Influential winner;
Ian Hart, Editor, SHP;
Robert Jukes, Health, Safety, Environment and Quality Manager, Northwood Hygiene Products Ltd. 2019 SHP Rising Star UK winner and 2019 SHP Rising Star Manufacturing winner;
Anna Keen, Founding Director, Acre Frameworks;
John Kersey, Health & Safety Manager – People & Culture, ISS;
Faye McGuiness, Director of Programmes, Education Support.
Jyssica Murphy, Divisional Health, Safety & Environmental Manager for Redrow Homes. 2018 Rising Star UK winner;
Hilda Palmer, Safety campaigner, Hazards Campaign. 2020 SHP Most Influential winner;
Shona Paterson, Director of Talent Consultancy at Shirley Parsons;
James Pomeroy, Director | Global Health and Safety Leader at Arup;
Jimmy Quinn, Senior Health and Safety Manager, Multiplex. IOSH Immediate Past President;
Professor Dr Andrew Sharman, Managing Partner, RMS. Former IOSH President;
Malcolm Staves, Corporate Health & Safety Director, L'Oreal;
Jamie Sutherland-Pownall, HSEP Head, UK Ministry of Defence. 2017 SHP Rising Star UK winner;
Liam Tiddy, Head of Executive Search, Shirley Parsons;
Sam Watts, EHS Specialist, Pepsico. 2020 SHP Rising Star in Manufacturing.
Collaboration

SHP collaborated with HSEQ talent experts, Shirley Parsons, for 2021.
Commenting on the awards, Shirley Parsons CMIOSH, Founder & CEO said: "Our profession continuously strives to make the world a healthier, safer and more sustainable place. We know there are so many fantastic initiatives, ideas and achievements out there, all driven by some truly talented individuals – we're thrilled to be working with SHP to recognise and celebrate the best of these."
Coinciding with the 2021 SHP Awards, is the launch of Shirley Parsons' new HSEQ talent tool. RoTI is a unique tool that enables employers to benchmark the "best in class" talent within HSEQ. RoTI helps employers structure career paths for current and new HSEQ employees to reach their full potential, maximising the organisation's return on talent investment.
All SHP Award finalists will be offered a bespoke personal RoTI assessment.
Shirley Parsons added: "Personality profiling has been around for many years. Through the RoTI tool, we want to give HSEQ professionals a practical and accurate tool that's fit for purpose."
As well as their RoTI tool, Shirley Parsons has launched a projects division, providing consultancy and project support within HSEQ. One of the Consultants for Shirley Parsons Project Services, Tim Fowler, is bringing his expertise this year's SHP Awards judging panel.  
Photos of awards winners
Click here for a helpful guide to entering the SHP Awards.
More photos can be found on each of the awards category pages.