In December 2021, Health and Safety Officer at Great British Communications, Jessica Collings, was named as the winner of the SHP Award for Rising Star in Construction. Here, she shares how she has progressed so quickly during her career and the values of mentoring…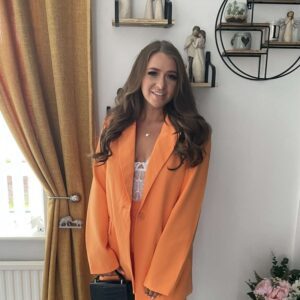 Jessica Collings began her career in health & safety in 2020, when she joined her current Great British Communications (GBC). Prior to that, she had been traveling and working in Australia in a traffic control job, working on construction sites, which is where she first became interested in a potential career in health and safety.
When the coronavirus pandemic hit, Jessica decided to leave her job in Australia and returned home to the UK. During lockdown she carried out an online careers test, where a career in health & safety was suggested. She began to look at courses that would be suited to her degree, which is in event management. She had covered and enjoyed the health and safety elements of that qualification, so decided to apply for a Master's in health and safety.
---
Click here to listen to this interview in full…
---
What does your role at Great British Communications involve and how has it changed over the last couple of years?
Jessica Collings (JC): "I'm currently a health and safety officer. I started out as a co-ordinator, which involved putting together work schedules, organising and talking safety audits, having a lot of interaction clients. with them.
"When I started, during lockdown, there were lots of people still working from home, so the office was very quiet. When everyone started coming back in, there were so many new people. Even the people that had been there a while, were new to me, which was strange.
Talk to me about some of the initiatives that you've implemented during your time in the business and how receptive the workforce has been to those changes.
(JC): "One of the things I like most about GBC is that everyone is really encouraged to bring their own ideas to the table. The company will openly listen to any ideas that you've got, which is great. One of the things we brought in was a qualified persons list for all subcontractors that go onto our sites. It's like a quick introduction to GBC and a quick test about what we expect on site about health and safety."
It's your work over the last 12 months which saw you nominated and subsequently named the winner of SHP Rising Star in construction for 2021. How did you feel when you heard you've been nominated? And then when you were told that you had won the award?
(JC): "My line manager, Michael, was the person who notified me that I'd been nominated. My first response was to laugh, I thought I had no chance of winning. Even when I was shortlisted, I still thought, 'it's eight people, I have no chance.
"The day I found out I'd won, I was due to be going to Paris the following day, so I was at home packing when Michael phoned to say, 'congratulations'. I couldn't believe it."
One the things that stood out for the judges, was your quick progression through the company, already achieving a couple of promotions. How have you achieved that and what challenges have you faced along the way?
(JC): "When I started, I went in as a co-ordinator and it was a small team. It was me, Michael and another health and safety officer and the company was growing. I'm the type of person that picks things up like really quickly, but I think everyone was a bit surprised well I picked it up, because it's quite like a niche industry and it's quite difficult sometimes to get your head around things.
"I think hard is the main challenge for me, was being with the clients. We work for many different ones, and I was across all of them, having to use different portals, for example. That and that was probably one of the main challenges.
"I'd been in the role just a few months when the Safety Officer role came up, and I just went for it. I did a presentation for the directors, which was a challenge for me because it wasn't something I was really comfortable with."
Do you think directors have more receptive to health and safety over the last few years, and does that make it easier for you to get your ideas across?
(JC): "Definitely. Obviously, I can't speak for other companies, but safety is our number one priority. We get that across to everyone in the company and drill into the minds or people from the co-ordinators to the engineers. We have got a really good safety culture. So, as I said, any ideas that we have, the directors are always open to listening to him."
Another thing that was that was picked out by the judges when they were looking through your submission, was that you are mentoring three health and safety professionals. Can you talk a little bit about that and why you feel mentoring is so important?
(JC): "I mentioned before, the company is growing so much. We now have four health & safety officers and we've got a co-ordinator each. With the co-ordinators, I want them to replicate what I've done in the future, and I want them to go on to be health and safety officers or above, so mentoring is and really important. I think it's especially important in health & safety, because we support the project teams, people who maybe don't have knowledge of health and safety, so it's important for us to mentor other people as well."
Finally, how do you think the recognition of winning this award could help you in your in your career moving forward and what are your long-term ambitions?
(JC): "Obviously I want to become a manager and am aiming to become the manager within the next two years. I want to gain enough experience in my role as an officer first though.
"In regard to winning the award, I've had so much recognition, so many like follower requests on LinkedIn, for example. I'd say will stand me in good stead throughout my career, even simply through having that extended network, when I'm going for future jobs, so I think it will continue to be very beneficial to me."