Safety & Health Expo eBook – trends and highlights from the 2018 seminars
Have you heard comedian and campaigner Ruby Wax's advice for dealing with workplace stress? Are you up to date with the latest advice on working safely at height? Do you know how best to implement the new ISO 45001 safety standard?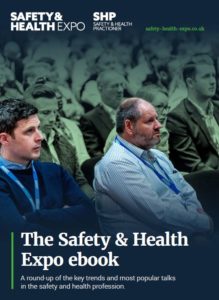 These are just some of the questions that were answered at Safety & Health Expo 2018, which returned to the ExCeL London in June 2018, attracting thousands of health and safety professionals and establishing itself among the world's leading industry events.
The event grappled with some of the biggest challenges and latest trends within the health and safety issue, with a particularly focus on new legislation and an increasing – and urgently-needed – focus on mental health and wellbeing in the workplace.
The Safety & Health eBook rounds-up some of the insights and highlights of Safety & Health Expo 2018, including:
How a strategic approach to mental health helps companies;
Lessons in leadership from Nicky Moffat, a former Brigadier in the British Army;
The harrowing reality of workplace death;
The transition to ISO 45001, the game-changing workplace safety standard;
The 15 most influential people in health and safety;
The winners of this year's Rising Star award.
To download this eBook and learn more, simply fill out the form opposite.
In association with: