Every workplace accident generates cost, and potentially includes a severe human toll that impacts morale and productivity.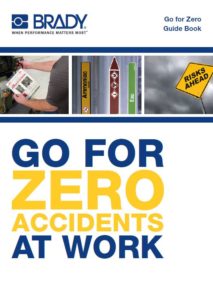 Managing safety risks to prevent workplace accidents from happening is both a humane and an economically sound strategy to protect or even improve company profitability.
With that in mind, Brady has developed a guidebook which it will be showing off at Safety & Health Expo 2019 (18-20 June 2019).
Go for Zero: The Guidebook for managing safety risks provides an insight in the main safety risks in industrial sectors, includes components and tips to create a 'Go for Zero' safety programme and presents tools to implement it on the work floor.
Brady is a leading of ID and safety solutions with its complete range of high performance labels, industrial label printers, software, safety & facility identification, spill control, lockout tagout solutions and more.
Brady helps to create and maintain safer work environments and comply with regulatory standards.
Circuit breakers
Also on display, will be Brady's circuit breaker lockout solution. Circuit breakers are easily switched on and off, which can cause problems for professionals carrying out an intervention. Shocks and extreme injury can be the results of prematurely reactivating a circuit. Brady's solution helps to avoid this and to enable safer machine interventions.
---
Registration for Safety & Health Expo 2019 ­– taking place on 18-20 June 2019 at ExCeL London – has officially opened. Secure your place at Europe's leading health and safety event.