The 2022 Safety & Health Expo Inspirational Speaker line-up has been announced, led this year by documentary-maker Louis Theroux. The show is held at London's ExCeL from 17-19 May.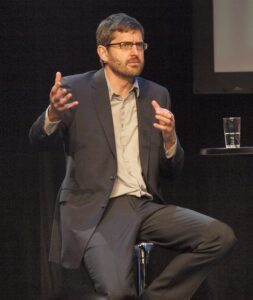 Louis Theroux is a documentary-maker, producer and writer. His unique style of investigation has looked into everything from post-partum mental illness in the UK to American psychiatric treatment centres, dementia care to alcohol addiction.
His simple yet direct style has revealed the personalities, lifestyles, loyalties, and beliefs of those often misunderstood, written-off or ignored.
Starting out in print journalism, Louis moved to television as a correspondent on TV Nation, Michael Moore's ground-breaking documentary series examining the strange, dangerous and controversial elements of American life.
Louis then joined the BBC to develop his Weird Weekends series where he established his signature style, putting himself at the heart of the subject, often in quite dangerous and compromising positions.
He has trained with American wrestlers, mixed with gang members, and interviewed those on the fringe of society. He has also spent time with self-help gurus, out of work actors, and rappers. Rejecting the more confrontational style of other documentarians in favour of an informal, curious, unassuming approach, his work is consistently revealing, informative and entertaining.
Returning to the UK, Louis followed Weird Weekends with When Louis Met… in which he spent time with a range of unusual celebrities from Ann Widdicombe to Chris Eubank to Neil and Christine Hamilton. He also famously made a film about Jimmy Saville, a production often cited in the subsequent revelations about the TV and radio presenter's abusive history. Louis returned to the subject over a decade later, when Saville's crimes were public, in a very personal re-examination simply titled, Louis Theroux: Saville.
Louis has also looked at South African extremists, gambling, transgender issues in children, motherhood, eating disorders and cosmetic surgery. Other famous exposes and acclaimed investigations have included The Most Hated Family in America, The City Addicted to Crystal Meth, Extreme Love – Autism, and Louis Theroux's LA Stories.
He produced a feature-length attempt to examine the secretive world of Scientology in My Scientology Movie and described many of his experiences on and off camera in his book Gotta Get Theroux This: My Life and Strange Times in Television.
"The world is a stage we walk upon. We are all in a way fictional characters who write ourselves with our beliefs." ― Louis Theroux, The Call of the Weird: Travels in American Subcultures
"On the list of qualities necessary to humans trying to make our way through life, truth scores fairly low. Why do people believe and do weird things? Because in the end, feeling alive is more important than telling the truth. We have evolved as living creatures to express ourselves, to be creative, to tell stories. We are instruments for feeling, faith, energy, emotion, significance, belief, but not really truth." ― Louis Theroux, The Call of the Weird: Travels in American Subcultures
"Most people feel that they are the heroes of their own lives and that they're good people. So if they're in a crisis, they feel an understandable urge to set out their own version of events."
"Funnily enough, the most danger I felt was when I did a story about exotic animals kept as pets in America."