Over 100 speakers will take to the stage and thousands of visitors are expected to listen to the talks. The event will take place from 19 – 21 May, at ExCeL London, and speaker applications are open until 31 January.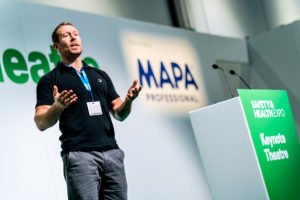 SHP has released details of the speaker 'Call for Papers' for its sister event – Safety & Health Expo. The agenda-setting live content sessions are being designed as premium continuing professional education and networking opportunities, and you can apply now for a speaker session to demonstrate where the work of your team or organisation is having an impact in the safety and health field.
The theme of Safety & Health Expo 2020 is Safety & Health is a Team Sport. With this in mind, we invite speaker-sessions on stadia safety, with a nod to the 2020 games in Tokyo, Expo 2020 in Dubai, and a recognition of the requirements to work across international and cross-company teams to build and deliver these high-stakes events safely. To what extent have learnings from previous stadia incidents moved the profession forward?
Taking our theme of Safety & Health is a Team Sport as an inspiration across Safety & Health Expo as a whole, we look to the importance of embodying safety culture across all levels of an organisation and welcome sessions on cultural and operational leadership driving quality and performance in the workplace. How do you work across your team, cross-functionally, and across supply chains to implement health & safety initiatives effectively, and ensure a safe and healthy work environment?
Our Safety Technology and PPE Theatre is running a special feature in 2020 – How PPE Saved My Life. Here, we're looking for vivid case studies of where quality PPE significantly mitigated risk, preserving function and life. How did procurement work with suppliers behind the scenes to specify optimum protection? If you're a supplier, engage with your clients and tell us where your PPE has had life-changing impact.
All topics are simply suggestions. If you have additional ideas we'd love to hear about them.
If you would like to join us as a speaker, let us know via the button below. On this page you'll also find out more about what we're looking for and what we have planned.