Risk assessments are an essential part of any business planning process. Most work carries a risk of potential harm and injury and therefore employers must consider what should be actively done to control it.
Companies with five employees or more are legally obliged to conducting a risk assessment.
It is not possible to control all risks – work would be impossible under these conditions. However, the risk of injury and damage should be controlled to 'reasonable and 'acceptable' levels and it is the aim of risk assessment to achieve this.
Risk assessment is not an end in itself  but is rather a means of managing risk. Many managers fail to appreciate this and invest far too much time in developing pristine documents to keep on a shelf in the hopes of impressing a visiting inspector or auditor!
Risk assessments should review all of the activities of the business and the places of work and identify the hazards arising.
The people at risk should be identified along with existing risk control measures. Then following an evaluation against the standards to be met, any required improvements should be identified along with timescale and responsibilities for implementation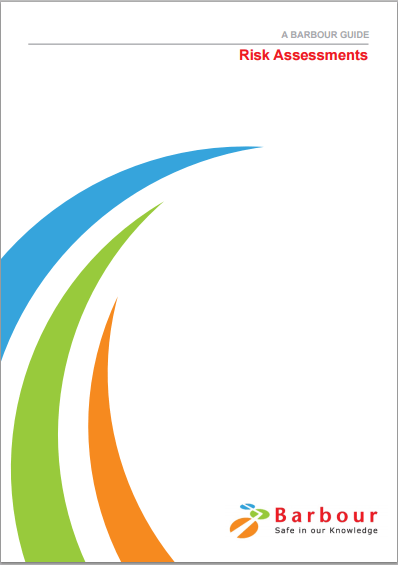 Download the Risk Assessment Guide
Download the full risk assessment technical guide  from Barbour EHS for practical and comprehensive information on Risk Assessments.  Topics covered include:
Understanding risk assessments
Legal requirements
What a risk assessment involves
Undertaking a risk assessment
Identifying the hazards
Evaluating the level of risk
Key actions
Evaluating risk
When it comes to evaluating the level of risk, Risk (R) is the combination of the likelihood of the hazardous event occuring (L) and the severity or degree of harm (S). i.e. L x S = R.
Determining the level of risk therefore requires the assessor to estimate the likelihood of the event taking place and the nature of the harm taking into account risk factors and past experience.
The risk rating can be used at several points during the risk assessment. Some companies choose to assess the level of risk arising from the hazard imagining that there are no risk control measures in place, and to then reassess after proscribing risk control measures. Others only assess the degree of risk after all risk control measures have been considered, including new ones not yet implemented. Either approach is acceptable.
Risk evaluation matrix
There are a large number of means of evaluating risk numerically but in general the end results should enable a person to understand priorities easily, so a three level of five level system is usually the maximum required in the majority of workplaces. e.g. the outcome might give a measure of Low, Medium or High risk.
Here is an example of three by three matrix, i.e. three levels of likelihood and three levels of severity:
Likelihood
Low: the event is unlikely to happen or certainly would occur very infrequently
Medium: the event is expected to occur on a less regular basis, but is still recognised as a problem by the team
High: an event is expected to occur on a regular basis, for example once a month or so regularly that it is perceived to be a problem
Estimates of Consequences or Harm
Harm can range from death, major or minor physical injuries, disease, genetic defects, mental injuries, to social trauma.
Possible definitions for consequences being low, medium or high are as follows:
Nature of Harm to People
Low: Outcome up to (and including) administration of first aid
Medium: Hospital visits and/or absence for up to three days
High: Death or major injury/accident resulting in over three days absence from work.
Assessors use the 3×3 grid of 'nature of harm Vs likelihood of harm' to provide an estimate of the degrees of risk:

Another way of looking at this is to simply multiply the numbers:
In this approach scores of 1-2 = low risk, 3-4 = moderate and 6-9 = high
This process is based on the judgement of the assessor using their knowledge, any information (including accident data) and observations of the workplace. Part of the consideration must also include the 'exposure factor' which reflects the number of people exposed, and the length of time they may be exposed.
Further reading
Risk Assessment articles