Health and safety has never been a bigger part of the national consciousness as it is during the coronavirus pandemic. Buoyed by positive headlines and a greater public appreciation of things like PPE, workplace health and safety policy, and cleaning and hygiene, the profession is increasingly seen a better light than ever before.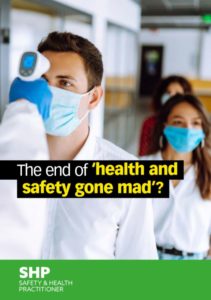 "The end of health and safety gone mad?" is a new eBook investigating the way the health and safety community has evolved and adapted to the demands of the COVID-19 pandemic. It explores growing positive media attention and the work performed by major health and safety associations, and asks how the profession may look going into 2021.
In particular, the eBook features contributions from RoSPA, NEBOSH, HSE, BOHS, Mind and the British Safety Council, who explain some of the new initiatives they have adopted over the course of the pandemic. From the HSE offering health and safety advice and guidance to firms, to Mind offering a telephone-based support service to reach people during the lockdown, these organisations demonstrate how they have stepped up to play a vital role keeping the public safe and healthy amid challenging circumstances.
The eBook, launched by SHP, Barbour EHS, and Safety & Health Expo, also explores how these brands have contributed to the profession's success over the last few months.
They have done this through informative, frequently updated hub pages covering essential coronavirus legislation and updates, and through educational webinars led by health and safety thought leaders that allow practitioners to stay connected with the profession.
It is clear the community's essential work has had cut-through in the media: for instance, earlier this year, the Financial Times proudly declared "We need health and safety at work now more than ever." This eBook explores what makes that assessment true.