Forklift truck safety: Director's briefing
Although lift trucks are highly versatile and useful pieces of equipment for moving materials and goods it is important that they are effectively managed.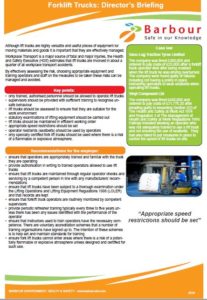 Workplace Transport is a major source of fatal and major injuries, the Health and Safety Executive (HSE) estimates that lift trucks are involved in about a quarter of all workplace transport accidents.
By effectively assessing the risk, choosing appropriate equipment and training operators and staff on the measures to be taken these risks can be managed and avoided.
This free director's briefing contains:
Key points when operating fork lift trucks;
Recommendations for the employer;
Legal duties;
Case law examples.
Fill out the form to download Barbour's free director's briefing and find out more.
Sponsored by: