Driving at work: Director's Briefing
Driving is by far the greatest cause of work-related accidental deaths.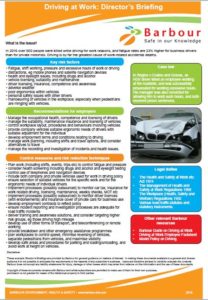 In 2016 alone, over 500 people were killed while driving for work reasons, and fatigue rates are 23% higher for business drivers than for private motorists.
This free director's briefing contains:
Key risk factors;
Recommendations for employers;
Control measures and risk reduction techniques;
Case law;
Legal duties.
Fill out the form to download Barbour's free director's briefing and find out more.
Sponsored by: