Barbour factsheet: Creating a business case for wellbeing at work
What is wellbeing?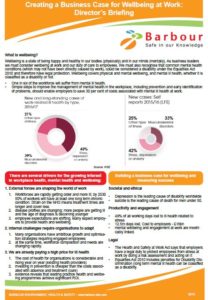 Wellbeing is a state of being happy and healthy in our bodies (physically) and in our minds (mentally). As business leaders we must consider wellbeing at work and our duty of care to employees. We must also recognise that common mental health conditions (which may not have been directly caused by work), could be considered a disability under the Equalities Act 2010 and therefore have legal protection. Wellbeing covers physical and mental wellbeing, and mental ill health, whether it is classified as a disability or not.
This director's briefing contains:
Why implement a wellbeing programme?
What does mental ill health at work really cost?
The drivers for the growing interest in workplace health, mental health and wellbeing;
Building a business case for wellbeing and measuring success;
and, Specific management actions.
Fill out the form to download Barbour's free director's briefing and find out more.
Sponsored by: