In Episode 4 of the Safety & Health Podcast, hear about some of the latest health, safety and environmental legislation updates from Barbour EHS and IEMA, plus the second part of our interview with outgoing IOSH President Andrew Sharman.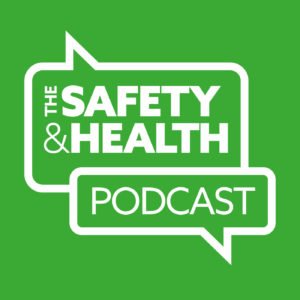 Teresa Higgins and Lisa Lewington from Barbour EHS provide an update on some of the latest health & safety legislation changes and how they go about keeping their customers as up-to-date as possible, plus there is a peek behind the curtain at the work that goes on behind the scenes in putting together the biannual SHP and Barbour EHS legislation update eBook. The episode also dips in to Barbour's recent legislation webinar, with specialist lawyers Simon Joyston-Bechal and Kizzy Augustin discussing risk assessments when returning to work during COVID-19.
Lisa Lewington, Barbour EHS Editor, said that now is more important than ever to be across the latest updates. She said: "The speed of change in health & safety legislation at the moment is completely unique. It's not only the change in legislation and guidance, but also the implication of those changes on existing legislation and guidance. For example, you think of things like DSE and home working. Companies have to consider how they look after the people who are working from home and how that works with DSE. There's a lot to consider."
The episode also features an interview with Martin Baxter, Chief Policy Advisor at IEMA, the professional body for environment and sustainability professionals, who provides an update on some of the latest environmental legislative developments, including the Environment Bill.
Health and safety profession becoming more professional
Finally, we pick up on last month's interview with outgoing IOSH President, Professor Dr Andrew Sharman. Andrew speaks about his views on the future of the health and safety professional. "The pandemic has forced practitioners to have and understanding about the disease and I think this has given opportunities to build confidence, trust and bonds between practitioners and leaders and encouraging, perhaps forcing in some cases, practitioners to have to learn, or improve their social skills, their leadership skills, their influencing and their ability to communicate.
"I think that really heralds the big change. The hope that I've had for the last five six years that OSH becomes recognised as a boardroom seat, an industry discipline. I think that's what's most likely to happen now over the next couple of years we'll find the profession becoming more professional and more highly regarded at the top table."
Andrew also discusses his experiences over the last year, as his time as IOSH President comes to and end and looks forward to what is next for him.
Safety & Health Podcast
Subscribe and tune in the Safety & Health Podcast to discover the latest issues facing the health and safety profession, and stay on-top of the developments affecting your role, from working at height, lone working and common workplace hazards, to safety culture, behaviours, occupational health and mental health and wellbeing.
Episode 1 featured an exclusive interview with SHP readers' Most Influential Person in Health & Safety, Thames Water's Chief Health, Safety and Security Officer, Karl Simons.
In Episode 2, we heard from Heather Beach and Stacy Thomson about burnout, perfectionism and how to deal with burnout as an individual, as management and as an organisation.
As well as part one of the Andrew Sharman interview, episode three features an chat with Giles Rhys Jones, Chief Marketing Officer at What3Words about how the geocoding system can be used to keep lone workers safe.