In episode 3 of the Safety & Health Podcast, 'IOSH President Andrew Sharman and how What3Words protects lone workers', hear from Andrew Sharman about adapting to COVID-19, and his latest collaborative book, and Giles Rhys Jones, Chief Marketing Officer at What3Words, about how the geocoding system can be used to keep lone workers safe.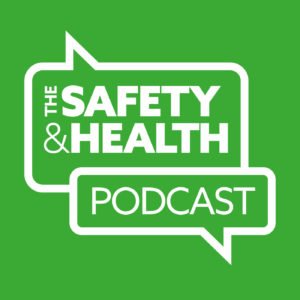 Prior to the coronavirus lockdown, Andrew Sharman had been visiting family in Scotland and soon found himself stranded away from his home in Switzerland, ill with the virus itself and having to rapidly adjust to a new way of working.
So, I began by asking him how that affected him, how he adapted and what he learnt from the whole experience.
"It's been kind of exhausting, because all this stuff online takes a lot of energy out of us. We're always on, looking into other people's cameras or, worrying that we're not going to articulate clearly through a microphone."
Andrew admitted to missing human interaction and connection and has been working, during the pandemic, on trying to find ways for people to unite to connect. He has recorded a series of video blogs about his experiences and has also set up a weekly video catchup's, inviting practitioners to join him for a virtual coffee and a chat.
"The call is not recorded, there's no structure to it, it's essentially like standing around a water cooler, or a coffee machine, and having a chat. We just doing it virtually. To be honest, it probably started with a bit of a selfish idea, I was just missing talking to people and having a chat about what was going on. And it seemed that I wasn't alone.
"The key themes that are coming out them is consistent, it's that people are recognising that the OSH profession has this amazing opportunity right now, as organisations are asking practitioners to help to guide, to shape, to direct, how to get through the pandemic.
"Quite often, health and Safety practitioners are only asked to help out things have gone wrong. So being pulled into the mix and then trusted, I think is a great thing. We can also identify a risk here, and the risk is that, unless OSH practitioners start weaving in the broader dimensions of occupational health and safety into these conversations that they're having around COVID, with their workers and their leaders, then we run the risk of the retreating into the background again, once the pandemic is over. So, I think this is a tremendous moment for practitioners to stand up, to show their leadership skills and abilities and the real value they bring."
One Percent Safer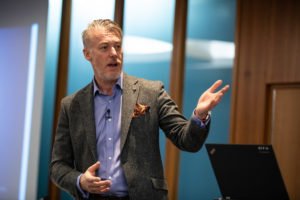 We also touch on Andrew's latest book One Percent Safer, described as an 'anthology of the world's best thought leaders, all in one place'. From concept to print in under four months, the book is out to buy now and contains 142 chapters, written by 142 different contributors, each one giving their best nugget of wisdom to make your organisation one percent safer. I spoke to Andrew about how the idea came about, who is featured in the book, what practitioners can learn from it, and how you go about completing a project like that in such a short space of time.
Andrew's time as IOSH President is coming to an end in October 2020 so in the second part of this interview, which will feature in next month's podcast, we talked about his time at the helm and what is next for him. So make sure you subscribe, wherever you get your podcasts, to hear that when it's out.
What3Words
In the second part of this episode, I spoke to Giles Rhys Jones, Chief Marketing Officer at What3Words about how the geocoding system can be used to keep lone workers safe.
What3Words is being used by around 80% of the emergency services in the UK to help find an exact location quickly, and also allows lone and remote workers to check in with their employer when they arrive at a job, pinpointing their location to a 3x3m square, anywhere on the planet.
Safety & Health Podcast
Subscribe and tune in the Safety & Health Podcast to discover the latest issues facing the health and safety profession, and stay on-top of the developments affecting your role, from working at height, lone working and common workplace hazards, to safety culture, behaviours, occupational health and mental health and wellbeing.
Episode 1 featured an exclusive interview with SHP readers' Most Influential Person in Health & Safety, Thames Water's Chief Health, Safety and Security Officer, Karl Simons.
In Episode 2, we heard from Heather Beach and Stacy Thomson about burnout, perfectionism and how to deal with burnout as an individual, as management and as an organisation.