In Episode 5 of the Safety & Health Podcast, hear from Robert Jukes, Health, Safety and Environment Manager at Wax Lyrical and the 2019 SHP Rising Star in Manufacturing and SHP Rising Star UK, as he talks about the challenges the coronavirus pandemic has brought to the manufacturing sector.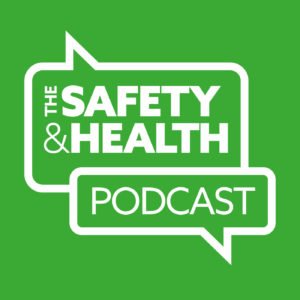 Robert's firm, Wax Lyrical, has remained open throughout the pandemic, pivoting to produce hand sanitizer for the NHS. In this episode, Robert talks about his experiences of the last few months, how his year has been as SHP Rising Star in Manufacturing and SHP Rising Star UK, his involvement with the IOSH Future Leaders programme and his plans and goals for 2021.
Rob described winning SHP's Rising Star Manufacturing and Rising Star UK in May 2019 as a "surprise" and an "honour". In the 18 months since, Rob has taken every opportunity that has come his way. He is now a mentor himself, has been doing a Masters, is part of the IOSH Future Leaders Programme and has attended several events and conferences. On top of this, during the coronavirus pandemic, he has been responsible for the health, safety and wellbeing of employees at a busy manufacturing site, which went from producing scented candles, reed diffusers and room sprays, to making hand sanitizer for the NHS, within 10 days of receiving the request.
Rob said this his biggest challenge came at the start of the pandemic, "responding to COVID-19 when there was very little guidance, the team were relying on our own knowledge and expertise." He said he was in a fortunate position of having a proactive leadership team and the firm was quick to respond, particularly around ensuring it had enough PPE for its workforce, knowing that it may be hard to secure in the weeks and months ahead.
Wax Lyrical remained operational throughout the first lockdown, switching to produce hand sanitizer to supply the NHS. Rob talked with real passion about how he and the team were keen to "do our bit" and said it was very much a learning curve. "I don't think we were perfect on day one, but I certainly think now that we've definitely got to somewhere where we feel really comfortable that we are COVID-secure."
Rob discussed the challenges of fresh risks popping up as a result of tackling another risk, such as dealing with the health and wellbeing of non-essential workers who were now asked to work from home for the first time, to keep them away from the site. He also spoke about having to quickly adapt to modifying the site's machinery and learn the new formulations for the hand sanitizer products and the risks around those, as well as ensuring staff were social distancing and cleaning down properly between shifts.
He discussed educating his team around what the risks were. "I think that if people don't understand the message properly, they can get scared quite quickly. You do need to be confident in what you're doing, and then you can comfortably go about your work. So, it was important that we engaged the staff about what we had done and why.
"We were displaying our COVID-19 risk assessments, we were displaying the steps that we were taking, we briefed the teams on it as regularly as we could. It was about getting our leadership team out there to communicate and relay the information as best we can.
"This also gives the staff feed back to us if they need to. They might not feel comfortable about something, they might have something going on at home, so it enabled us to address those issues and listen to what they say and putting in place what you can do to help."
Safety & Health Podcast
Subscribe and tune in the Safety & Health Podcast to discover the latest issues facing the health and safety profession, and stay on-top of the developments affecting your role, from working at height, lone working and common workplace hazards, to safety culture, behaviours, occupational health and mental health and wellbeing.
Last month, we heard about some of the latest health, safety and environmental legislation updates from Barbour EHS and IEMA, plus the second part of our interview with outgoing IOSH President Andrew Sharman.