SHP exclusively caught up with Karl Simons, Chief Health, Safety & Wellbeing Officer at Thames Water, who has just been recognised in the Queens New Year's Honours list to receive the award of OBE for his 'Services to Mental Health Policy'.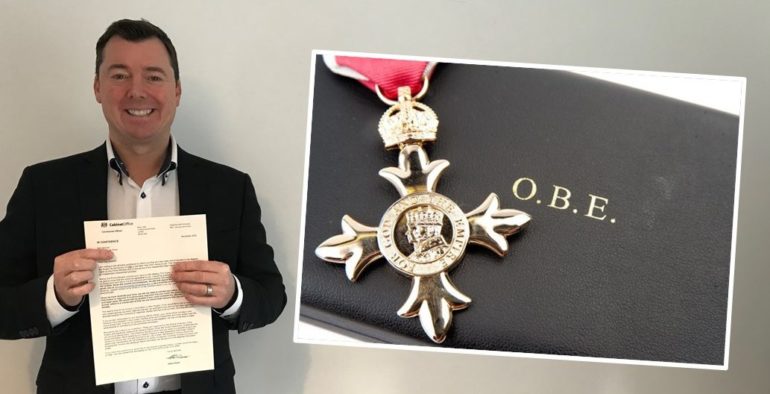 Karl Simons, Thames Water's Chief Health, Safety & Wellbeing Officer, has been named on the Queens New Year's Honours list. Karl will receive an OBE for his 'Services to Mental Health Policy'.  The 2021 was published on Thursday 31 December and demonstrates the incredible efforts of hundreds of public sector and community workers throughout 2020 and beyond.
Huge congratulations Karl, a richly deserved accolade. How does it feel to be awarded an OBE?
Karl Simons (KS): "Thank you. I am absolutely staggered as this truly is extremely humbling and I have no words that I can really say that would do justice to how I feel about receiving this accolade. I mean this is the kind of thing celebrities and sports personalities who are household names receive, so to get a letter saying the Prime Minister has recommended me to Her Majesty the Queen to receive the honour of OBE, absolutely floored me and I'll admit I was totally emotionally overwhelmed when reading it."
How did you hear the news?
(KS): "It's been an incredibly challenging year for everyone and the changes we have all had to make it seems have also even affected the Cabinet Office, as this year they sent the official notification by email. So, I opened my iPad emails as normal and saw one from an official looking address. When I opened it I'm sure my heart skipped a beat as I nearly collapsed and after several profanities starting with 'holy' I then thought it must be a joke or spam email, so I called the cabinet office to confirm and spoke to a lovely lady who did congratulate me on my nomination. I actually called back several times after that to double and triple check!"
What have you done since being informed about receiving the honour?
(KS): "Since being notified I have read quite a lot about the award and know you can't get a Queens Honour for doing your day job, it's about recognising the work undertaken by individuals over a substantial period of time either in their local communities, who are recognised through an MBE, or those that have influenced at a National level who are considered for an OBE.
"There's a whole host of vetting rounds and lots of different committees with some extremely influential people involved. The interesting bit is the letter told me I couldn't notify my family, colleagues or friends, as the secrecy is very tight surrounding this. As you can imagine keeping this from my family was really tough. I was only allowed to inform the press officer, as the press are notified in advance but are under an embargo."
The award recognised you for services to Mental Health Policy, can you talk a little bit about the work you've been doing?
(KS): "My entire career of 30 years has been spent dedicated to the preservation of life and throughout it, I've always strived to share my learning so others can benefit. Latterly over this past decade, whilst having the privilege of supporting Thames Water and the 15 million members of the public we serve, I've also been called upon to work with numerous Government departments to support the development and implementation of changes to mental health policies and national guidance, alongside having the privilege of delivering hundreds of specific mental health presentations to various Lords, Minsters, MPs, Industry bodies, Universities and Companies."
Why is mental health so important to you?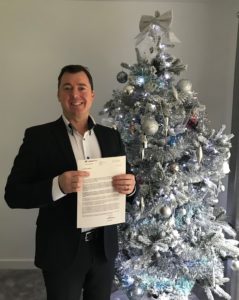 (KS): "Having a background in HM Armed Forces, serving on the frontline in multiple conflicts and having worked in senior management positions in major companies, I've seen first-hand the devastating impact of poor mental health in individuals. Many years ago the stigma surrounding mental health was terrible and even the mere mention of someone struggling mentally was seen as a weakness which was a real shame and drove people to hide their feelings, but I've worked tirelessly for many years to try to make a difference and change the stigma surrounding this term. It is encouraging though that in recent years I've watched as society's acceptance of the term mental health is really changing and in the workplace I've seen and worked with some really great organisations and inspiring individuals who are doing some marvellous work to promote mental health management as a force for good."
I guess this is the pinnacle of your career, so what's next?
(KS): "In 2019 I humbly accepted the award for SHPs Most Influential Individual in Health and Safety, voted for by the 600,000 global readers, which I didn't think could be topped, so to achieve an OBE in 2020 truly is unbelievable and I'm not sure it's something that I'll ever overcome as it sits alongside my other three greatest life achievements. Firstly, being lucky enough to meet and marry my brilliant wife Amanda, who has been alongside me during my work all over the world and having her give me two beautiful children Melissa now 15 and Lewis 13.
"As far as my work goes, I will continue as ever to be relentless in learning and sharing to help keep people safe and well and I sincerely hope this coming year will see us break the back of the COVID grip on our country and the world, so everyone can meet and hug their family and friends in the way they should and can get back to working the way they wish to."
Congratulations once again Karl.
---
Karl speaks to the Safety & Health podcast
In May 2019, Thames Water's Chief Health, Safety and Security Officer, Karl Simons, was named the Most Influential Person in health & safety by SHP readers.
In this episode, we caught up with Karl to find out how he felt when he learned of the award and what he has been doing since.
A leading figure within health & safety, Karl discusses his role in lobbying government for changes in the way mental ill health is viewed in the workplace, how Thames reduced work-related illness by 78%, how public perception and accolades help the company and his role in SHP's Rising Stars initiative.
Subscribe and tune in the Safety & Health Podcast to discover the latest issues facing the health and safety profession, and stay on-top of the developments affecting your role, from working at height, lone working and common workplace hazards, to safety culture, behaviours, occupational health and mental health and wellbeing.