Wouldn't it be brilliant if, on your first day in your new job, you were handed an information 'induction' pack that provided the usual employment and OHS policies plus pithy advice on how to quickly identify and safely prevent or stop bully behaviours without getting hurt in the process?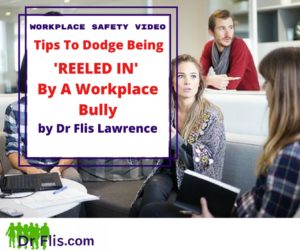 Even better, what if this helpful little pack gave you some really helpful tips that allowed you to quickly recognise, prevent or control workplace bullying and other negative or toxic behaviours before it impacted your mental health and work engagement. Given the reasons I outlined in a previous SHP article 'Sustaining Your Mental Health In Toxic Workplaces', I believe such a simple measure offers the potential to significantly boost well-being, productivity and safety at work.
One of the key tricks of any persistently manipulative and aggressively controlling individuals (be they a boss, colleague, staff member, client and/or stakeholder) is to trick you into believing that you are to blame for their behaviour (generally speaking, you are not to blame for the bad behaviours of other adults in your workplace). One common method used by bullies is to rapidly switch from being warm and friendly to suddenly abusing or ridiculing you in public for a mistake (or anything) of which you had no control or were completely unaware. This tactic allows the bully to catch you off-balance, and to control you. If allowed to continue, you can end up being so busy cross-checking and second guessing yourself that your concentration, mental health and productivity takes a deep dive.
Does this sound familiar?
If you want to learn to quickly identify the many common tricks bullies use to 'reel you in' then watch my short 8 minute video below. I also offer a free guide 'How To Quickly Recognise And Control A Workplace Bully Without Getting Victimised' where you get 10 tactics to safely control and defuse workplace bullies here.