In 2019, Fujitsu was awarded ISO 45001 from Bureau Veritas. In this case study article, Fujitsu and Make Business tell the story of the achievement.
A global business with regional structures that cross continents, cultures and legal frameworks, Fujitsu, working alongside Make Business, recently set itself the challenge of introducing ISO 45001. The aim? To support each individual company within the global organisation and align occupational health and safety management systems with the business strategy.
The international information technology company employs over 140,000 people in more than 100 countries, and applies its own core values of innovation and life-enrichment to sustain a highly-focused workforce safety philosophy. This translates into an organisational culture that is systemically intolerant of accidents, incidents and poor safety performance.
Partnering with Make Business (formerly EEF), Fujitsu targeted ISO 45001 as a key landmark. In early 2019, Fujitsu became the first organisation awarded the new standard by global testing, inspection and certification expert, Bureau Veritas. Its achievement rests on major contributions from Fujitsu's Head of Health and Safety, Simon Head, and Make Business' Health, Safety and Sustainability Lead, Ian Cooke. Through their eyes the article explores: the rationale for certification; key challenges identified, and solutions developed; and, not least, lessons learned, and value created.
Why 45001?
Fujitsu's quest for 45001 extends light-years beyond ticking some 'new box'. As Make Business' Ian Cooke observes: "for Fujitsu, traditional OH&S concerns such as systems, compliance and normative guidelines are necessary but far from sufficient."
ISO 45001 offers everyone an ownership stake by assigning prominent roles to both top-level leadership and active workforce involvement.
Establishing the legal framework
Fujitsu identified ISO 45001 as a route to business wide consistency and over a period of nine months, worked with Make Business to re-write the management standard to address the organisation's legal and language requirements in over 100 territories.
Simon Head recalls: "There was much head-scratching. We lacked an underpinning legal framework with global applicability, and, without such a legal register, we would clearly struggle to implement the standard. So, we commissioned Make Business to create one."
This was a complex task, the challenge for Make Business was to coordinate consultants from 25 countries with partner organisation TOP consultants, ensuring they all understood the brief of the framework and could then import detailed information accurately into one source, to be presented back to Fujitsu.
For Simon, the appointment of Make Business to compile a legal register was a natural fit. "We considered various global partners and, after due diligence, chose Make Business. Their international OH&S track-record makes them a partner in whom we could trust to push boundaries and challenge accepted norms and restrictions when working globally."
Transcending continents and cultural boundaries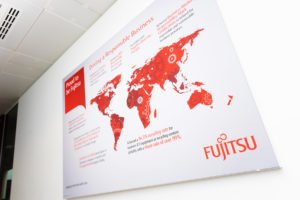 Beyond documenting this necessary legal register, Make Business' biggest challenge was to help Fujitsu achieve organisational culture change to ensure active standard adoption globally. "We expected there to be differences," adds Simon, "but were surprised at how little OS&H travels across borders and how far we are from a global – even European – profession. This fragmentation framed a major task to create consistency".
The resulting Fujitsu change programme includes:
Development and promotion of health and safety as a core leadership value and critical dimension of business strategy.
Modular training for all employees in the Europe, Middle East, India and Africa (EMEIA) region overcoming language, cultural and legal barriers and establishing a single set of workforce-wide behaviours. The programme connects with employees and aligns with 'The Fujitsu Way', the firm's global ethical culture for doing business.
Comprehensive international legal register spanning over 30 EMEIA countries alone.
ISO 45001 standard management system implemented to create a truly international OH&S platform.
The challenge (game-based learning) which helped cross borders and take up along with feedback has been excellent
Success through expert managed change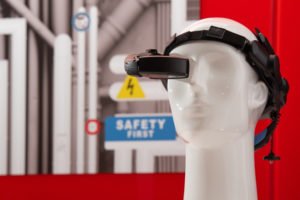 Several key decisions were made in order to provide consistency and ensure that all business units across the globe used the same terms and languages. Fujitsu chose to use the language contained within the ISO standards, for example using 'worker' instead of 'employee' and 'organisation' instead of 'employer'. In using these standardised key terms, everyone at Fujitsu shared the same understanding and this was particularly important with the global roll out of the programme.
Careful consideration of the language and its interpretation was crucial, however adopting 45001 language set the company-wide standard and enabled the organisation to work towards best practice, creating a collective way of working across the entire business, even those business units operating in different countries.
"Undoubtedly," concludes Ian Cooke, "45001 raises the bar on 18001. It integrates ethos, strategy and cross-organisational leadership with traditional H&S concerns and adds verifiable process to principle. Applying it with dedication and hard work, we have built a fantastic model."
For Fujitsu, as one of the first global technology businesses to achieve ISO 45001, the programme has generated substantial reputational value. By fulfilling the standard's goal of aligning OH&S management systems and business strategy, the value runs to the heart of the business, supply chain and its sustainable competitive advantage.
---
Discuss ISO 45001 for your business
At Safety & Health Expo 2019, you'll have the opportunity to get your questions around legal standards like ISO 45001 answered in person. You'll find 75+ hours of CPD-accredited content on offer across five theatres, including dedicated sessions on ISO 45001 from BSI and the British Safety Council – with Barbour EHS on hand at Stand SH1210 to offer health and safety legislation and guidance.