2019 marked 10 years P2BS, formerly JasonAnkerLive, had been in business. Jason Anker MBE became a motivational safety speaker back in 2009 and has spoken around the world about the impact his workplace accident has had.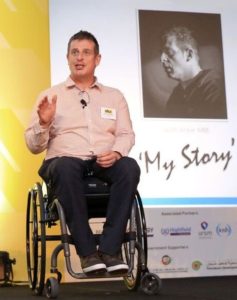 Jason was paralysed from the waist down due to an avoidable accident on a construction site in 1993, when he fell just 10 feet from a ladder. He was 24 years old and for 16 years he was unable to talk openly about his experience until a chance meeting in 2009 with a safety expert, Dan Terry, that changed his life.
Since then, Jason has been talking to the industry about his experience of living as a paraplegic. He gives an honest and sometimes graphic account of the devastation the incident has had on him, his family and friends.
Jason also now delivers a wellbeing talk on the topic of resilience about coping with trauma, stress and mental health issues. This is no longer a presentation about what he can't do but what he can do and focuses on his achievements, presenting around the world, receiving an MBE and all the positives in his life.
Not only focussing on Jason's story, P2BS has a range of other award-winning motivational speakers with a wide range of stories and circumstances. These speakers including Matt Hazelton, Paul Blanchard, Lisa Ramos, all of which are available to book to help support safety 'stand down days' or events. Each speaker has an emotional and effective story to share which will help change peoples attitudes towards safety in the workplace and in their everyday lives.
Jason Anker Consultancy
For many years Jason has been told that his 'inspirational safety talk' was great, but was often then asked, 'what next?'. As a result, Jason has utilised his experiences in a partnership with Prof. Tim Marsh, forming a new company, Anker & Marsh. The company provides a full series of training, assessment and consultancy services. The experienced team of consultants aim to help implement the leading-edge methodologies currently being embraced.
Anker & Marsh can help design a data driven risk strategy and select the right combination of services to ensure an organisation minimises the risk to employees, physical or mental wellbeing and to organisational sustainability generally.
The aim is for all employees to survive unharmed, but the passion is also to help as many employees thrive as possible and to pro-actively maximise their human factor potential for themselves and for their organisation.