IOSH is the biggest health and safety membership organisation in the world, and the only chartered body for health and safety professionals.
IOSH training
IOSH is the voice of the profession, campaigning on issues that affect millions of working people. It was founded in 1945 and has over 47,000 members in around 130 countries. As a world leader in health and safety training, over 179,000 people take IOSH's courses every year.
Through its new five-year strategy, 'WORK 2022 – shaping the future of safety and health', IOSH believes that by working together we can achieve a safer and healthier world of work.
IOSH sets the standard for the profession and supports its members' development with resources, guidance, events and training.
IOSH membership
The seven membership categories are:
Affiliate Member
Associate Member (AIOSH)
Technical Member (Tech IOSH)
Graduate Member (Grad IOSH)
Chartered Member (CMIOSH)
Chartered Fellow (CFIOSH)
With over 70 accredited qualifications on offer, members can choose from a broad range at various institutions to help them progress through our membership categories.
IOSH Managing Safely
An example of one qualification offered by IOSH is:
The NCFE IOSH Level 3 General Certificate in Safety and Health for Business
This qualification provides an understanding of safety and health in a business context. Building on the IOSH Managing Safely course, this qualification is the ideal next step to become eligible for IOSH membership, opening a world of professional opportunities and resources that will support progress at work and contribute tangibly to business success.
Have a look at IOSH's list of qualifications and institutions that meet the academic requirements for Associate (AIOSH) / Technical (Tech IOSH) and Graduate (Grad IOSH) membership, and where these are available.
If you are studying for your first OSH qualification, you may be eligible for Student Membership. To find out more please go to iosh.co.uk/students. On Graduation, Student Members will be offered to upgrade to full IOSH Membership.
If you have already completed an IOSH accredited qualification you will need to join as an Affiliate Member and apply for a higher level of IOSH membership. To apply for a membership category transfer Affiliates and Student Members will need to provide IOSH with their qualification certificate.
Educational routes into membership
For those looking for a career in health and safety a good starting point would be a qualification that is awarded through a recognised educational regulating body such as Ofqual and is at a recognised level on a National Qualifications Framework.
Some points to consider when considering a qualification in health and safety:
What is your preferred method of study – exams, assignments or work-based assessments?
How much time can you dedicate to study – can you balance work, study and home commitments?
How will your study be financed – self, employer?
If your goal is to join a Professional Body, then consider the kinds of qualifications that are acceptable for their categories of membership.
The different types of qualification range from a Level 3 (RQF) equivalent to an 'A' level, to postgraduate degrees (FHEQ). The difference between the range of diverse types of health and safety is the modes of study and how they are assessed.
IOSH certificate
To become an Associate/Technical member you will need to have completed a qualification in Occupational, Safety and Health (OSH) in one of the areas below:
To become a Graduate member, you will need to have completed a qualification in OSH in one of the areas below:
Level 6 qualification in accordance to EQF.
Degrees at level 6. (Bachelors degrees with honours, Bachelors degree, Professional Graduate Certificate, Graduate Certificate/ Diploma)
Degrees at level 7. Master's degrees, Postgraduate Certificate/Diploma
Cognate degree (A degree in a safety or health related discipline which covers a minimum of 50% Health and Safety content)
NVQ level 5 Diploma (Must include additional Unit 611)
SCQF level 10 Diploma
Benefits of IOSH membership
IOSH membership is recognised worldwide as the benchmark for professional safety and health excellence. It is required by employers recruiting or promoting safety and health professionals.
Through continuing professional development (CPD), IOSH members build their skills, knowledge and expertise to help them become more rounded and valued safety and health professionals.
Being an IOSH member benefits you, your organisation and the wider world of work.
It develops you as a practitioner, enhances your career prospects, keeps you up to date and extends your network. Your organisation gains from employing a member of the Chartered body in occupational safety and health.
With IOSH's advice and support, you will be helping your organisation improve its reputation, productivity and resilience by looking after the health and wellbeing of its workforce.
And by joining IOSH, you make your contribution to research, evidence-based solutions, collaborations with business and other professions and global campaigns on the important safety and health issues of the day.
IOSH course
Some of the benefits of becoming an IOSH member include:
being able to attend free and low-cost seminars, access free technical information, get discounts on professional courses and network with thousands of other members
the industry-specific groups and local networks IOSH offers, supported and driven by committees of member volunteers. Our network of branches strengthens the relationship between IOSH and the global health and safety community at a local level. The IOSH groups bring together members with a shared interest or specialist area, to network and exchange information
joining IOSH networks that promote health and safety by organising meetings, conferences, workshops, site visits and webinars, which provide valuable professional development and networking opportunities.
through IOSH membership, demonstrating your commitment to the profession, staying up to date and developing your skills, knowledge and behaviours, something highly valued among employers.
IOSH competency framework
In 2019 IOSH introduced a new competency framework, with the aim to enable health & safety professionals to be able to benchmark themselves against their peers. Speaking about the launch, IOSH's Head of Practice Duncan Spencer, said: "The competency framework is required, because we need a map for professionals to be able to say, where is my skill set compared to other people in my profession? And what do I need to change about my skill set in order to be able to progress my career?"
The framework with enable health and safety professionals to do two things. "Firstly, to be able to benchmark where their skills currently are, and whether that operates for them well. It will also enable you to look at what's next? If I want to go for the next job in the career structure, or maybe two jobs at once and go for a big leap, then I've got to make sure that I develop the skills for the job that I want in the future."
IOSH President James Quinn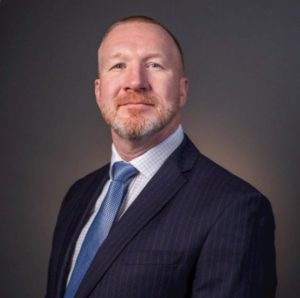 James Quinn, Senior Health and Safety Manager for international construction contractor Multiplex, was confirmed as the new IOSH President in October 2020, succeeeding Professor Dr Andrew Sharman.
James said he aims to focus on ensuring the profession supports businesses into the future, it is crucial that it continues to recruit a high calibre of people during his Presidential year. He said there are two ways to achieve this: Through people seeking a career change moving into safety and health and through those starting their working life.
James himself is an Army Veteran of two-and-a-half decades. After leaving the Armed Forces, he joined Babcock International PLC as a Health, Safety and Environment Trainer, then Advisor, before becoming Health and Safety Manager for a large Middle East transport group.
James then became Area Occupational Health and Safety Manager for Multiplex in Abu Dhabi and is now Senior Health and Safety Manager for Multiplex in the UK. He is currently overseeing health and safety at Multiplex's prestigious Broadway construction project in Westminster, London.
A Chartered Fellow of IOSH, James is also a Fellow of the Chartered Management Institute and Vice-Chair of the IOSH Construction Group, the Institution's largest specialist sector group.
At the time of the appointment, Louise Hosking was confirmed as President-Elect and is due to become President in Autumn 2021. Three new Vice-Presidents were also confirmed: Ciarán Delaney, Lawrence Webb and Neil Catton.
SHP spoke to outgoing President Andrew Sharman about his year in the role, for the Safety & Health Podcast. Click here to listen.
IOSH Presidential team
Lawrence Webb, President Elect
James Quinn, Immediate Past President
Angela Abbs, Vice President
Richard Bate, Vice President
Neil Catton, Vice President
Dr David Gold, Vice President
Stuart Hughes, Vice President
Joanne Price, Vice President
Presidential handover 2021-22
Click here for bios of the IOSH Presidential team.
Click here for more information on IOSH's competency framework.
More information about the benefits of joining IOSH is available here.
Further information about IOSH membership is available here.
Visit IOSH's official careers site for vacancies in health and safety, recruitment services and career advice.
Latest IOSH articles