When James Tye created the British Safety Council in 1957, thousands of people were being killed at work every year in the UK, while many more suffered serious injuries and disease.
James Tye tirelessly for comprehensive protection of all workers, and the last 60 years of health and safety campaign history has now been unveiled as part of the British Safety Council's digital archive.
This archive contains work featuring momentous events from 60 years of British economic, social and political history, and holds unique documents and correspondence as well as photographs, newspapers, magazines and posters which were thought to be lost.
In 2015, as the British Safety Council started to prepare a treasure trove of historic materials including campaign posters, photographs, and correspondence, all of which was bursting from old boxes in a warehouse in the Midlands.
These have now been digitized and made publicly available for the first time.
Among the treasures in the archive are:
The first UK report into the need for seat-belt laws, from 1959;
A comprehensive collection of publications from 1959 to 2010, documenting the British history of this period, including tragedies, e.g. the Kings Cross fire and Hillsborough disaster, changes in politics, industry, fashion and gender;
Hundreds of unique, hand-drawn posters from the 1970s, 80s and 90s;
Photographs of celebrities who were involved in the British Safety Council's campaigns, including Dame Barbara Windsor DBE, Des Lynam OBE and Dame Esther Rantzen DBE;
An insight into the life and struggles of James Tye, a powerful and sometimes controversial campaigning voice trying to change the attitude of British industry and the public to safety and health at work; and
The British Safety Council's magazines from the 60s.
Mike Robinson, Chief Executive of the British Safety Council, said: "The British Safety Council has a long history of involvement in health and safety. Our digital archive, which we have saved for future generations, is testament to this.
"It also offers a unique insight into the history of health and safety in Britain and is a record of the commitment, passion and unrelenting efforts of those health and safety professionals who campaigned tirelessly against all the odds to make Britain a safer place to work."
The archive featured in a picture book and a film, released to mark British Safety Council's 60th anniversary in 2017. The film told story of the charity over the last 60 years, including its big wins and achievements, and feature rare footage and images. The film will be available online after the event.
A commemorative picture was also published by social historian Mike Esbester, which tells the story of the British Safety Council and James Tye. It uses images from the archive, revealing the charity's colourful heritage and past campaigns, as well as how they shaped the social, political and economic changes of the last 60 years.
British Safety Council membership
Two kinds of membership are offered, UK and international, designed to help organisations manage legislation and compliance while systematically improving health, safety and environmental standards.
Many businesses, from small independent start-ups to large multinational organisations, are part of the largest corporate health and safety membership organisation. For over 60 years they have benefitted from the best practice advice and influence of experts as they strive to excellence in workplace health, safety and wellbeing.
British Safety Council Awards, How does it work?
Each year, since 1980, the British Safety Council has awarded the Sword of Honour for health and safety management excellence. For the past seven years, it has awarded the Globe of Honour for excellence in environmental management. SHP Spoke to Policy and Technical Director David Parr to find out about how the process works.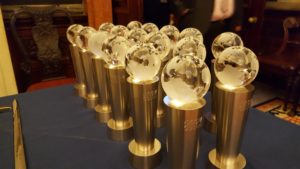 "The five-star audit is unique to the British Safety Council," explains David. "There are essentially three kinds of five-star audit: occupational health and safety, environmental and process safety. What makes the audit unique is that it is based upon current best practice, and as it is quantifiable, there's a scored, graded outcome.
"It's a consultancy audit, so we provide detailed recommendations that organisations can use as their improvement plan. It provides a structured route to best practice status."
The audit benchmarks a company's performance against best practice globally. It also an actual quantified scored outcome against that best practice standard. So how does the best practice get determined? "Every year we have a panel of technical experts, both internal and external, who review all the current trends and current global standards," explains David.
Click here for the full interview with David.
British Safety Council India
In 2018, British Safety Council announced the launch of the 'India Safety Leadership Group'. This is a forum which will enable its members in India to share best practice and expertise in health, safety and wellbeing and lead broader change across all sectors.
In India, around 80% of the estimated 465 million-strong workforce are not protected by the existing health and safety legal framework. The British Safety Council aims to raise awareness of the importance of managing health and safety risks in the workplace. It will also challenge traditional views and approaches, as well as supporting employers in adopting practices which better safeguard the health and safety of their workers.
The opening of an office in Mumbai in 2017 followed over 20 years of support to the Indian market. The Indian office allows it to offer a greater range of products tailored to the needs of the Indian market. It also acts as a base for campaigning and progressing its charitable work in the country.
Chief Executive, Mike Robinson spoke about the opening of the first meeting of the India Safety Leadership Group. Click here to see what he said.
Mike also spoke to Safety Bytes, where he discussed:
Why the British Safety Council decided to launch in India.
How it will have an impact on health & safety in India, a country of 1.3bn people.
Measuring air pollution: Canairy App for outdoor workers
In March 2019 British Safety Council launched Canairy, in partnership with King's College London. Canairy is the world's first mobile app for outdoor workers to measure their exposure to air pollution in London. SHP spoke to Matthew Holder, Head of Campaigns at the British Safety Council, to find out more.
Canairy was launched to coincide with the Time to Breathe campaign. It aims to give those who work outside all the information they need to help reduce their exposure to air pollution. It will also allow employers to gather intelligence to help them protect the health of their workforce.
Click here to read more from Matthew, and Andrew Grieve, Senior Air Quality Analyst at King's College London.
Click here to visit the British Safety Council website.
More articles: