Radon: achieving workplace statutory compliance
By Ian Mitchell, Principal Consultant – Radon at Bureau Veritas 
Radon, a radioactive by-product of Radium, is known to be the second largest cause of lung cancer[1] and the third leading cause of premature deaths in the UK[2]. Whilst awareness is building on the potential health implications of long-term exposure to the natural gas, more could be done to ensure employers have an adequate and appropriate strategy in place to protect employees and achieve workplace statutory compliance.
What is radon and what are the risks?
Radon is a colourless, odourless and tasteless radioactive gas that is formed during the decay process of Uranium. Radon decays to produce a series of by-products, including Polonium, which emits radioactive 'alpha particles'. These are particularly dangerous to humans when inhaled, as they damage the lung cells – this damage is linked to mutations and cancers. The risk is also greater for smokers, as their lungs are more susceptible to damage.
Radon is measured in Becquerels (Bq) per cubic metre of air (M3)[3] and the recommended exposure limit in the workplace is 400Bq/M3 (with a lower limit of 200Bq/M3 in the home)[4]. However, it's important to note that the World Health Organisation is campaigning for the workplace limit to be lowered to 300Bq/M3[5].
Managing radon exposure is crucial when considering the potential levels of radiation people may come across, even in their day-to-day lives. Based on current measurements, radon exposure is estimated to account for around 50 per cent of the average person in the UK's annual personal radiation dose (although this may vary depending on the area within the UK, as some locations are more affected by radon than others). It's also estimated that a significant proportion of an employee's daily exposure to radon may occur in the workplace. It's therefore essential that people are aware of the radon levels in their home or place of work, as it's estimated the risks of living in a home with a radon measurement of 200Bq/M3 can be significantly worse for your health than working in a nuclear fuel plant, for example. Put another way, prolonged exposure (eight hours per day) to radon levels of 200Bq/M3 (the current allowed home limit) is the equivalent of having more than five cigarettes a day or 112 x-rays per year. [6]
Who is affected by radon?
Every building contains radon but the levels are usually low. The chances of a higher level depend on the type of ground and the location. All workplaces including factories, offices and shops can be affected but basements and poorly ventilated ground floor rooms are more at risk, as radon is more likely to enter a building from the ground. In densely populated areas, the risk can also be greater, as there is more demand for office space and these lower ground rooms are more likely to be occupied.
Public Health England has published a map showing where high levels are more likely:
 The darker the colour the greater the chance of a higher level of radon. The chance is less than one home in a hundred being affected in the white areas and greater than one in three in the darkest areas.
Workplace statutory compliance
Alongside the general guidance of the Health and Safety at Work Act 1974, to ensure workplace compliance, employees must meet two statutory health and safety obligations that are linked to radon. The Management of Health and Safety at Work Regulations 1999 requires the assessment of health and safety risks, which should include radon, while the Ionising Radiations Regulations (IRR99) includes guidance on monitoring exposure in radon affected workplaces.
Under these regulations, all workplaces should carry out a radon risk assessment if they meet the following criteria:
All below ground workplaces in the UK (that are occupied greater than an average of an hour per week or 52 hours per year)
All workplaces in radon affected areas (1-30%) by geographical assessment (as per Public Health England's UK radon heat map[7])
Depending on the potential level of risk, properties will need to be assessed for radon levels on a regular basis as part of an ongoing mitigation strategy.
Managing and mitigating exposure
It's crucial that employers are aware of the risks of radon and methods of managing and mitigating exposure. Many don't realise that it's simple and cost-effective to measure radon levels and relatively straightforward to manage and mitigate the risks.
How can Radon be measured?
Businesses investigating radon issues are recommended to install specialist radon detectors or digital monitors for a three month test period, in order to establish average radon levels. Rather than a standalone test, it's advised that measuring radon levels is part of a wider risk management strategy to investigate and treat radon issues. This will often include radon risk assessments (including a geographical, architecture and workplace assessments), occupational exposure advice, the deployment of a remediation strategy and the recommendation and project management of any remedial contractors that may be required to install any engineered solutions to reduce exposure levels.
In some circumstances for radon remediation in existing buildings, engineered systems are required to modify the pressure configurations and airflow to effectively lower reported levels. A radon 'sump' can be installed under a building to collect radon particles and redistribute outdoors via a connecting pipe. Depending on the radon levels involved, a radon sump can either be active (with a fan) or passive (without a fan). It's important in these instances that a system is in place to ensure any mechanical systems stay operational and remain switched on. It's crucial that employers communicate a radon remediation strategy with all employees to ensure they are aware of the measures put in place and to encourage compliance and, ultimately, the success of the programme.
Considerations
Bureau Veritas has a dedicated Radiation Protection Advisor (RPA) and offers a full scale of consultative services in the area of radon risk management. For further information, call 0345 600 1828 or visit www.bureauveritas.co.uk/radon.
It's important to remember that radon levels can vary and need to be regularly assessed depending on the results of an individual risk assessment – recommendations vary significantly from repeat assessments every two months for workplaces currently exceeding exposure limits to every 10 years for lower risk environments. It's common for the majority of workplaces to be assessed every year.
Radon levels are easier to monitor during the winter months and, as such, it's an ideal time for businesses to consider assessing the risk in the workplace and appropriate remediation solutions.
References:
[1] http://www.hse.gov.uk/radiation/ionising/radon.htm
[2] http://www.ukradon.org/information/risks
[3] http://www.ukradon.org/information/whatisradon
[4] http://www.hse.gov.uk/radiation/ionising/radon.htm
[5] http://www.who.int/phe/radiation/backgrounder_radon/en/
[6] http://www.ukradon.org/information/risks
[7] http://www.ukradon.org/information/ukmaps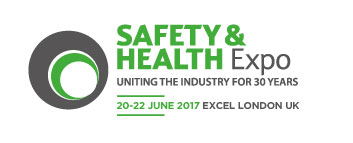 Safety and Health Expo will return to London ExCel on the 20-22 June 2017, showcasing a collection of top health and safety solutions from 300+ UK and international suppliers. Industry professionals will be able to source a range of behavioural safety, risk management, training and occupational health products and services.
Safety & Health Expo will feature a lively PPE and professional clothing Fashion show and will play host to a number of industry awards ceremonies and exclusive networking events.
Register for Safety and Health Expo 2017 today by clicking here…