Please login or register to download this whitepaper
---
---
Barbour download: Mental Health in the Workplace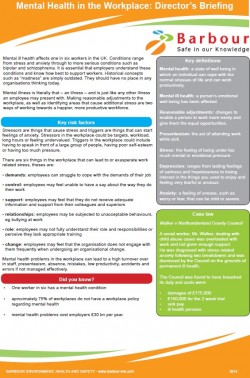 This director's briefing on Mental Health in the Workplace comes courtesy of Barbour EHS.
Mental ill health affects a huge proportion of the UK workforce, and there is still a stigma attached to those suffering.
This document provides:
key definitions around mental health terms;
risk factors to watch out for;
legal requirements
and recommendations for employers.
There is a huge drive to really put a focus on mental health in the workplace this year, so make sure you and your directors are up to date on the key issues surrounding mental health in the workplace.
Download this director's briefing from Barbour EHS by filling in the form to the right.